It is all Bob Shriber's fault and boy, am I glad! Bob lives in Aquinnah and is usually the first of the Vineyard birders to "hit the Head" (arrive at the Gay Head Cliffs) to look for migrating birds in the fall. Tuesday, Oct. 23, Bob called me at around 9 a.m. and he was talking a mile a minute.
"I just saw a black-throated gray warbler and now I have lost it."
I asked where exactly he saw the warbler and Bob described a location in almost the exact spot that the bird was seen two years ago. The black-throated gray warblers are a rare bird for the Vineyard having only been seen once before. Bob then added, in a much deflated voice, that he had to catch a boat and travel to New York for business. I called Lanny McDowell, Allan Keith and Matt Pelikan to alert them of the rare bird. Matt was at work and couldn't get away, only an answering machine at the Keith's, but Lanny said he was on his way. What happened next was mind-boggling.
Lanny and I picked up Nancy Aronie as Lanny had promised to take her on a bird walk. We arrived at the Gay Head Cliffs and found that Jeff Bernier was there with his camera and had spoken to Bob Shriber. Jeff had tried to find THE warbler, but to no avail. Lanny and I checked the area Bob had described and played tapes of the bird song as well as screech owl and chickadee calls which usually make a bird curious enough to fly near the location of the song or calls. This did not work. We didn't locate the black-throated gray warbler, so decided to walk down the trail to the Wampanoag Museum to show Nancy a selection of migrating sparrows and whatever else was around.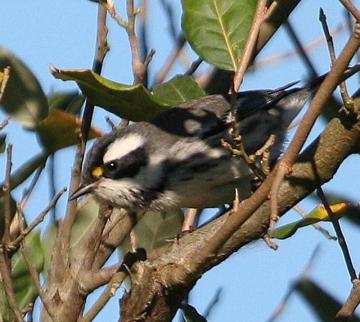 We spotted a small vireo/warbler type of bird in the shrubs next to the museum, and while I shouted out locations of the bird, Lanny swung his camera and took shots of the bird as neither of us was positive of the ID. We left Aquinnah and settled in at Nancy Aronie's living room and brought out bird books and compared Lanny's photos to the various bird guides. Was it an orange-crowned warbler? No, the bill is too thick and there are not streaks on its breast. Guess it must be a vireo. Is it a warbling vireo? No, our bird has two faint wing bars and the warbling vireo doesn't have any. How about a blue-headed vireo? No, the blue-headed vireo has very strong spectacles, strong wing bars and a heavy dark bill. Our bird has more petite spectacles, faint wing bars and a skinnier yellowish gray bill. Wow, that leaves a Bell's vireo. There has never been a documented record of that vireo on the Vineyard before. Great teamwork, and it all started with Bob Shriber's call about a different rare bird!
Bell's vireos are a species that inhabits the center of our country and down into small sections of southern Texas, Arizona, New Mexico and a small area in southern California. However a few Bell's vireos have been seen in this state, as well as New Hampshire and Rhode Island. These are probably young birds that get blown off their regular fall migratory route to Mexico and Central America.
I was curious about the name of this rare vireo so I did a bit of research and found the Bell's vireo was named after John G. Bell who was a buddy of John James Audubon. Mr. Bell, a naturalist/taxidermist from New York, accompanied Mr. Audubon on a collection trip to Missouri, helping Mr. Audubon collect and preserve the birds they found. Mr. Audubon, in thanks for this work in Missouri, named a vireo after Mr. Bell. John Bell was a pioneer of the art of taxidermy, and is known among other things for teaching Teddy Roosevelt the techniques of taxidermy.
Bird Sightings
Sad news from Rob Bierregaard. Chip the young osprey that was the last to leave New England and was headed toward Portugal, was lost at sea on Oct. 14.
Matt Born reported that he had a sharp-shinned hawk harassing the birds at his Aquinnah feeder during the week of Oct. 16. He also had a huge flock of cedar waxwings pass over his home.
Jeff Bernier counted 12 American wigeon, an American coot and several pied billed grebes at Squibnocket on Oct. 18.
Sally Williams watched a northern harrier hunting the Katama fields on Oct. 20. The same day Rob Culbert spotted the first brant of the season at Crystal Lake in Oak Bluffs. He also had the first hooded mergansers at Farm Pond that day.
Matt Pelikan spotted two late staying barn swallows in with tree swallows at the Farm Institute on Oct. 20. The same day Lanny McDowell photographed a merlin at the Farm Institute in Katama.
On Oct. 22 Flip Harrington, Lanny McDowell and I spotted a single barn swallow flying off the Gay Head Cliffs. The same day Jeff Bernier photographed a hermit thrush in Edgartown and William Waterway spotted a red-tailed hawk at the Farm Institute. Bob Shriber spotted a white-eyed vireo by his Aquinnah home on Oct. 22.
Also on Oct. 22, Bert Fischer reported that he had 24 pine siskins at his Aquinnah feeder. We still have the same number at our Quenames feeder. Saskia Vanderhoop spotted a merlin at Lobsterville, a peregrine falcon at the Gay Head Cliffs, and noted that she was seeing more brown thrashers than usual around Church street in Aquinnah.
Daniel Waters reported his first dark-eyed junco of the season at his Christiantown feeder on Oct. 23 and Gary Mirado has had two red-breasted nuthatches at his Tisbury feeder for five days.
Suzie and Woody Bowman spotted three common loons off West Chop on Oct. 23.
Please report your bird sightings to the Martha's Vineyard Bird Hotline at 508-645-2913 or email to birds@mvgazette.com.
Susan B. Whiting is the co-author of Vineyard Birds and Vineyard Birds II. Her website is vineyardbirds2.com.