The Animal Shelter of Martha's Vineyard is declaring November adopt an elder shelter cat or dog month. The shelter has wonderful, sweet older cats who desperately need homes.
Adoption fees will be waived for anyone who wants an older cat to love. They are: Eve, a beautiful black stray from the Sweetened Water Farm area who is microchipped but evidently never registered and was obviously someone's pet; Daisy, a sweet, big gray kitty; Rex, a female black and white; and Vickie, a tabbie and white, wonderfully gentle cat who just loves people and other cats. Senior animals have outgrown all their crazy kitten antics and just want a quiet place to rest and be loved. Please come visit the shelter and fall in love with one of these seniors.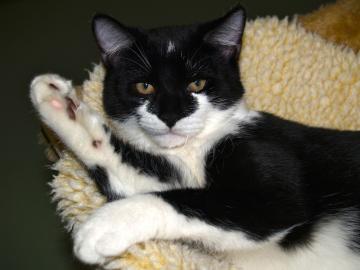 The shelter still has four darling kittens; three are black and white and one is a ginger and white older kitten. A few more kittens will be coming in soon, a reminder of the importance of having cats spayed or neutered. Financial assistance is available for neutering or spaying pets; call the shelter for information.
There is one little guinea pig named Bella still looking for a home. And last but not least is Java, an adorable Lhasa Apso-beagle, two years old, back at the shelter again, a sweet dog needing a permanent home.
Shelter hours are Tuesdays and Wednesdays 8:30 a.m. to 2:30 p.m., Thursdays and Fridays 8:30 a.m. to 6:30 p.m. and Saturdays 8:30 a.m. to 4:30 p.m. The shelter is closed Sunday and Monday. The telephone number is 508-627-8662.
Contributions are always gratefully accepted. Please make checks out to The Animal Shelter of Martha's Vineyard; the mailing address is P.O. Box 1829, Edgartown MA 02539.