Success doesn't materialize out of the thin air, and in the case of this year's varsity football team, now 6-4 as they head into the Island Cup, the groundwork was laid four years ago, when the current seniors took their first starts for the junior varsity squad.
"We're building the foundation," junior varsity head coach Mike Magaraci said in a Gazette interview. "And then junior and senior year, you build the house."
Coach Magaraci, a physical education teacher at the Oak Bluffs School, is in his first year as head coach of the junior varsity squad, but his involvement with Island football dates to 1999, when he began coaching the junior high team. He stayed with the junior high program until 2004, taking a break from coaching in 2005 when his son was born.
When he returned, it was to the high school program, where he was an assistant coach for Phil Hughes, who coached the junior varsity for four years before retiring. Coach Magaraci works with assistants Willie Bishop and Ken Ward, as well as varsity head coach Donald Herman and his staff, to create a fully integrated Vineyard system.
"It's definitely a football family," he said.
Junior varsity focuses its efforts on developing and honing football fundamentals — everything from tackling to sizing up proper coverage. By the time the players are juniors and move on to varsity, it's expected that they will have the football know-how to make an impact at the higher level.
"Hopefully, if we did our job right, they're fundamentally sound and they can execute properly," coach Magaraci said.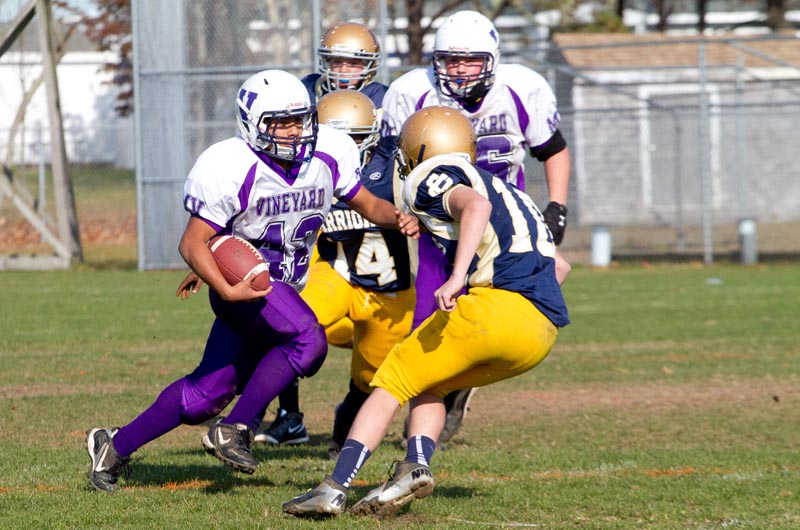 "We just take what we see in practice and try to use what skills they already have to put them in a position to succeed," Mr. Hughes said.
At one point in the Vineyard football program's history, there were three squads: freshman, junior varsity and varsity, but overall numbers have since dwindled, and freshman and JV were merged into one team.
Having a freshman squad allows for one more year of player development, but the extra time isn't always necessary for the athletes. This year, for the first time since 1999, there are four sophomores (David Macias, Mike Mussell, Spencer Schofield and Liam Smith) and two freshmen (Jacob Cardoza and Ben Clark) who have already moved up to varsity. The early jumps are partially due to injured varsity players having to step back from their roles, but also due to the commitment of the younger athletes.
"These guys have that [attitude] of 'Hey, if I work really hard, I can get to the next level," coach Magaraci said. "[Varsity] is a little carrot dangling in front of them."
Most of the JV players got their start playing for the junior high team, although prior experience isn't a prerequisite. Liam Smith had never played the game before high school, nor had his older brother, Conor, a 2012 graduate. Conor ended up as a captain of the varsity team. Adonis Camby, a JV player last season who since moved off-Island, was also a football newcomer, but "just phenomenal" on the field, coach Magaraci recalled.
"At my level, it's really about getting them to play," he said. "They're definitely behind the 8-ball [that] first year, but we get them in." Not everybody will necessarily play the same amount of time, he said, but everybody will play.
"They deserve to play," he continued. "Everybody practices hard."
"They're out there working their tails off, just like varsity," Mr. Hughes said. "I don't think people realize how hard they work."
This year's squad is 1-8, a record that doesn't reflect the number of close losses the team has had since its first game against Nantucket in September (a 20-12 defeat). Unlike varsity, which meets Nantucket just once per year, JV begins and ends its season playing the Whalers.
"It's a yardstick for the season," coach Magaraci said of the bookend scheduling. "It's huge for us to do that."
The junior varsity Island Cup game will be played at 10 a.m. on Saturday, Nov. 17.