The Animal Shelter of Martha's Vineyard has a few nice animals who need good homes.
If you are a black cat lover, you must come soon to see our collection of black cats and kittens. The most striking of these is Burt, who should be named Star because he has a tiny white star in the middle of his forehead. He also has a perfectly symmetrical white mask. He is a loving five-month-old kitten that sits up and begs to be held, with a purr that will melt your heart.
Brady and Leonie are two black and white five-month-old kittens who are just as special. Cedric is a nine-week-old ginger tiger kitten and his sister Cherry is a beautiful brindle kitten. Both of these kittens need a lot of TLC to help them overcome their shyness, which they will do in time with a loving, patient owner. Mittens is a ginger and white older kitten, about 11 months old.
It is not too late to take advantage of our November "adopt a senior shelter pet" offer. The adoption fee will be waived for these deserving senior cats.
Eve is a handsome all black cat who was found in the Sweetened Water Farm area. She has been microchipped but never registered. Someone in the area must be missing this handsome cat. Rex is our sweet older lady, a tuxedo semi-long-haired black and white cat. Vicki is our only tabby and white medium-long-haired cat.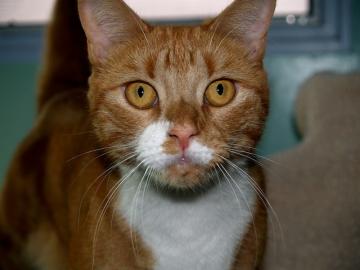 Last but not least is Daisy, our big, sweet gray kitty. All of these beautiful cats would make your holidays complete.
Our little guinea pig Bella is still waiting for a young person to take her to her forever home.
Shelter hours are Tuesdays and Wednesdays 8:30 a.m. to 2:30 p.m., Thursdays and Fridays 8:30 a.m. to 6:30 p.m. and Saturdays 8:30 a.m. to 4:30 p.m. The shelter is closed Sunday and Monday. The telephone number is 508-627-8662. The shelter will be closed on Thanksgiving, but please remember all the homeless cats, kittens and dogs on this special day by making a donation.
Contributions are always gratefully accepted; we are funded solely by donations. The Susie Fund was established to pay the medical expenses of animals at the shelter who need medical care. Please make checks out to The Animal Shelter of Martha's Vineyard; the mailing address is P.O. Box 1829, Edgartown MA 02539.
The staff, volunteers and animals wish you all a very happy Thanksgiving.