Despite stormy weather, the bay scallop season is under way and doing well, local officials and fishmongers report. But while fish markets are moving product, the weather hasn't helped get either fishermen or consumers to the store.
"We've got plenty," said TJ Giegler at Edgartown Seafood, on Cooke and Main streets. The retail price on the Island before press time was under $18 a pound.
The big producing towns this year are Edgartown and Chilmark. Tisbury and Oak Bluffs are slow. Aquinnah has yet to open, usually waiting until later in the month to do so.
Paul Bagnall, shellfish constable for Edgartown, said when the weather is fair at least 30 boats will start out in the morning. On the best weather days, as many as 40 fishermen are out.
"Some of the boats are going for double limits," Mr. Bagnall said. Most of the scallops are coming from Cape Pogue, though there have been a few more coming out of Sengekontacket than expected, he said.
The scallops are cutting bigger than a year ago, too, according to Mr. Bagnall. Last year the complaint was that the scallops were too small.
When the season began a few weeks ago, fishermen were getting paid as much as $14 a pound for their haul. That number has dropped to around $11, according to Mr. Bagnall.
Doug Benefit of Edgartown and his crewman Dennis Gazaille were back at the dock by midmorning on Wednesday. Mr. Benefit said he is especially grateful this is a good season. Carpentry work isn't that busy this winter, he said. Scalloping is an essential way to make a living when other kinds of work falter.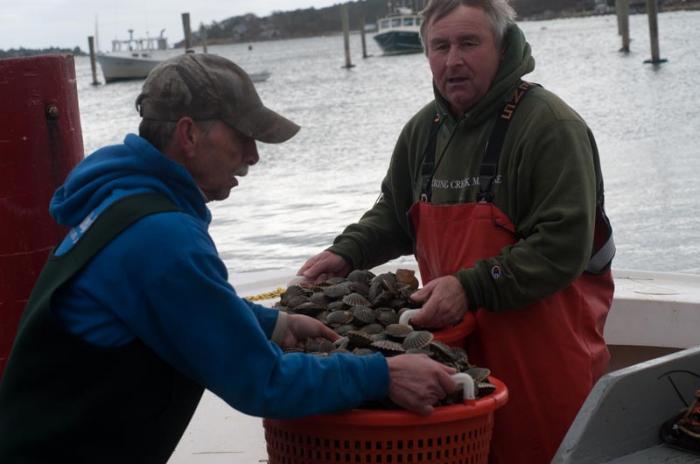 John Conlon of Edgartown and his daughter Bridget arrived at the dock at about the same time.
"I can catch them. But I can't make them," he said. Economically Mr. Conlon said that he is already ahead of last year.
"Masonry doesn't pay that well and it isn't reliable," Mr. Conlon said. "Bay scallops are very important to me. I have to cut back on everything. It is nice to know there is something out there I can count on," he said.
Chilmark shellfish constable Isaiah Scheffer said he sees more than 20 fishermen going out on some days, though the average is closer to 18. Those fishermen are getting their daily limit of two bushels, he said. This week that limit was temporarily raised to three struck bushels.
"They are not bad. The shells are small, but the eyes are decent in size," Mr. Scheffer said. "They are cutting great, almost nine to 10 pounds per bushel."
Jeffrey Maida of the Net Result fish market in Tisbury said he has plenty of scallops on ice. Though disappointed that Lagoon Pond is not producing many scallops this year, on either the Tisbury or Oak Bluffs side, Edgartown and Chilmark are making up for it, he said.
Danielle Ewart, Tisbury shellfish constable, said that landings are significantly down from a year ago in the Lagoon Pond. Last year Tisbury had a banner year. This year, he said two or three commercial shellfishermen are going out each day and not all are getting their limit. She estimated that town shellfishermen have harvested about 200 bushels so far this season.
Lake Tashmoo is the only truly positive story [in Tisbury], Ms. Ewart said. The pond has shown a slight incremental improvement in bay scallop populations after being almost completely lacking. Ms. Ewart said she is considering the possibility of opening Tashmoo later in the season to commercial bay scallopers.
Hurricane Sandy and the northeaster are long gone, but the effects of both have softened the mainland market, fishmongers report. New Yorkers are too busy right now to be thinking of a dinner of fresh bay scallops from Southeastern New England.
"Hey, the restaurants are probably just opening up now," Mr. Maida said.
Nantucket is doing well, though not as well as it did many years ago. It is an ongoing trend for both Martha's Vineyard and Nantucket bay scalloping. Dave Fronzuto, marine superintendent for Nantucket, said there are between 45 and 50 boats going out each day, with some of the fishermen landing double limits (10 bushels per boat). The bushel limit on Nantucket is five bushels.