As the news raced around the Island Tuesday that its signal would be sold, WMVY launched an ambitious fund-raising drive to stay online and on the air.
"This is real. We must evolve. Or face extinction," an announcement on the station's website declared.
On Wednesday at the radio station headquarters in Vineyard Haven the mood was upbeat.
"You know, I'm feeling very optimistic," said Barbara Dacey, the station's longtime director of music and programming. "We really are getting some great calls and emails and the pledges are coming in, so it's really encouraging."
"It has to do with the Vineyard itself, I think that's the way people feel about the Vineyard," program director PJ Finn said. "People have such a personal connection to the Island whether they're here year-round or just visitors, there's something very personal and emotional about the Island, and people feel that way about music . . . so they have personal reactions to the radio station."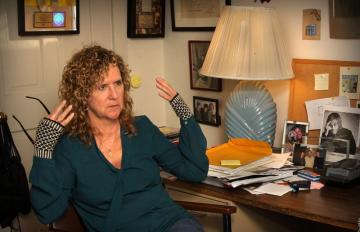 The fund-raising drive has urgency. Friends of WMVY, a nonprofit organization founded in 2007 to broadcast the station over internet, needs to raise $600,000 in the next 60 days in order for the station to continue broadcasting online as a nonprofit, noncommercial entity.
By late Thursday the pledge drive had raised about $80,000.
The station also is actively looking for a new FM signal.
The small building that houses the station off Carroll's Way is a time capsule of sorts of the last 30 years in Island music history. There are posters advertising events at the Hot Tin Roof and Outerland, and signed posters and pictures from musicians that visited the Island; 45s hang on the wall and a reel-cutting machine sits in the office.
A bulletin board in the front office is plastered with fan mail, including several requests for blue lobster stickers — the rare blue lobster is the station's symbol.
The board also features picture of staff and friends. The building is home to a close-knit group of employees — "We're very huggy," Mr. Finn said — that hope to hold onto their jobs.
"The staff is very resolved to make it happen," Ms. Dacey said from her office, which has Patty Griffin and Fiona Apple posters on the walls and a framed picture of Bill and Hillary Clinton posing with WMVY staff. (The radio conducted an interview with the Clintons in 1993 at the Vineyard airport.) "Because I think people just believe so much in the radio station," she said.
Ms. Dacey said the staff had been aware the station was struggling, with some lean years and some more profitable ones. But over the last few years, she said there had been outright losses.
"Despite a devoted listenership, mvyradio has not been solvent. We've been fortunate. Aritaur Communications has covered our losses, but that is no longer feasible," the website announcement said.
"Overall we were not surprised at this turn of events, and realize that it's our reality right now," Ms. Dacey said.
"I think if there was any level of surprise from the staff, it was that there's going to be a change, but not a finality," said Mr. Finn. "I think some people were thinking the station would be sold, it would go away, that was the end. So I think anybody's sad feeling about losing 92.7 was immediately replaced with, 'Well wait, we have a chance to continue, let's put our energy there.'"
Thus the fund-raising push, fueled by an outpouring of emotion from listeners.
The $600,000 would pay for the station's operating budget for one year, with existing programming and staff. It would not cover any costs associated with acquiring a new FM frequency.
"If we can get to the $600,000, we'll find a way to get wherever we go from there," said Joe Gallagher, the station's owner who sold the signal to WBUR and is helping with the transition.
Pledges are tax deductible and will not be collected unless the entire fundraising goal is met, Mr. Finn and Ms. Dacey said.
Mr. Gallagher said his company Aritaur Communications had looked for a buyer who would keep WMVY on the air and came close a few times. But in the end the WBUR offer made sound business sense. "This would enable Aritaur to take care of our business situation, our bank obligations," he said.
"It forced us to do what we've been too hesitant to do in the past, make the move all the way over to a noncommercial, and nonprofit," he continued. "On one hand it's very sad, on the other hand it's very exciting, it has challenged us to do what I think is the path MVY ultimately has to go down."
Aritaur will transfer the station's assets, including equipment, databases, music and computers, to the Friends of MVY.
But large donations are key to the drive. "We need some big donors and ideally big donors who are connected to Martha's Vineyard," Mr. Gallagher said, issuing what he called an open invitation to make significant contributions, join the station's board, and "be part of its future. That is the ticket to returning the station to the Island."
Beyond that, the station will explore fund-raising through concerts and auctions, as well as underwriting from the business community. "We are in conversations and looking at options to be able to provide FM coverage for the Island," Mr. Gallagher said.
He continued: "It's the greatest, in my opinion, station in the country and maybe the world. Ask anybody who can write a big check to call me, day or night."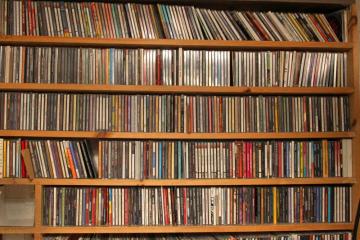 Mr. Finn and Ms. Dacey had warm words of praise for Mr. Gallagher. "He's our hero. He's kept the station going," Ms. Dacey said. "He's the reason we're sitting here today. Literally."
"I can think of a lot of other business owners who would have just cut their losses years ago," Mr. Finn said.
Support has also come from listeners.
"We've gotten a lot of calls. I got a call today from someone from the Island, and she said she felt teary, a lot of people have called and said when they heard the news they started crying," Ms. Dacey said. "And so when she was talking to me, I kind of teared up a bit too.
"We're radio people. That's how we all came into it," she said, despite the station's early forays into digital and live streaming. The station even has a smart phone app. "But it has always started with the broadcast. We're really hopeful that we find another broadcast opportunity," Ms. Dacey said.
"We're really very focused on just telling people, getting the word out," Mr. Finn said. "The next step is go get the attention of people who can help us get through the pledge drive, not just in increments but in leaps and bounds."
If anything, they said, the experience has affirmed that people are on the other end, listening in their cars, at the coffee shop, or on their laptops.
"It's nice to know that people are listening, that's my feeling about it," Mr. Finn said.
"Certainly the way people are expressing it right now, this connection . . . you just don't know what you've got till it's gone," Ms. Dacey said. "You hear that, you know, and we're not gone! We're going to keep going."
For more information on how to donate, visit the website friendsofmvyradio.org.