With Christmas just a few short weeks away, the shelter is happy to let you know that adoptions have picked up and all the young kittens have found their forever homes — just in time to bring joy to some happy families. The two tuxedo brothers have gone to the same home where they will bring a lot of love to those lucky people.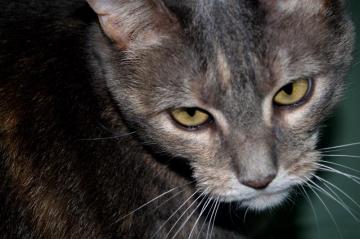 The shelter still has a lot of wonderful older cats who would love to be in homes for the holiday.
The featured cat this week is Mittens, a playful and affectionate one-year-old ginger and white tabby. She would love to have a playmate if you already have a cat.
Older cats will have their adoption fee waived if any family offers to give them a good homes. They are: Daisy, Eve, Vickie (who the shelter likes to call a Vineyard Coon cat) and Rex. New to the shelter is Brody, a sweet old fellow who was abandoned at the Vineyard Vet Clinic doorstep. He is in need of a lot of TLC. He is not fond of dogs or other cats, so he would do best in a loving home as the only cat for whatever time he has left.
The sweet little Guinea Pig, Bella, still has not found a young person to take her home.
Don't forget the Christmas parade on Saturday. If you would like to walk with the shelter, please meet at the Edgartown School at 10 a.m. Call the shelter if you have any questions.
Do you have a special dog or cat person on your Christmas list? The shelter is still adding bricks to the memorial sidewalk - they would make a really great gift. It would benefit the shelter too. If bricks aren't what you have in mind for the animal person in your life, how about a donation to the shelter in their name?
The shelter says they are so grateful for all the kind donations which have been generously received in the past four years. On behalf of the animals, they thank you!
Shelter hours are Tuesdays and Wednesdays 8:30 a.m. to 2:30 p.m., Thursdays and Fridays 8:30 a.m. to 6:30 p.m. and Saturdays 8:30 a.m. to 4:30 p.m. The shelter is closed Sunday and Monday. The telephone number is 508-627-8662.
Contributions are always gratefully accepted, as the shelter is funded solely by donations. The Susie Fund was established to pay the medical expenses of animals at the shelter who need medical care. Please make checks out to The Animal Shelter of Martha's Vineyard; the mailing address is P.O. Box 1829, Edgartown MA 02539.