The boys' hockey team kicks off its season this Saturday with a 5 p.m. game against Lowell Catholic. The first 50 fans will receive a free T-shirt.
Boys' basketball and girls' hockey also play at home Saturday. Basketball tips off at 4:30 p.m. against Dennis-Yarmouth, while the girls take to the ice against Latin Academy at 1 p.m.
Girls' basketball plays its home opener Wednesday against Sandwich at 3 p.m. The boys' team will play at 4:30 p.m.
Season tickets for basketball and hockey games can be purchased at the front office of the regional high school or at the door of games. A season pass is $55 for adults and $35 for seniors, and is good for all 20 boys and girls basketball or hockey games. Regular ticket prices are $6 per game for adults and $4 for seniors. Please contact the athletic department at (508) 693-1033 extension 123 for more information.
Boys' Hockey
When the puck finally drops for the first regular-season game, the team will have played seven scrimmages, an exceptional number even by hockey pre-season standards.
"It was a pretty good load to see where we're at," head coach Matt Mincone said last Thursday, adding that the Vineyarders had been scheduled to scrimmage a Canadian squad, but the team had to cancel at the last minute.
Last week's scrimmages — against physical powerhouses Needham, Hamden (Conn.), Acton-Boxboro, and Plymouth South — were up and down for the team. The Vineyard won no matches, as it sorted through defensive struggles. Still, Coach Mincone was encouraged by the depth of the forward lines — there are four this year "that proved they could do it," and by the potential of the five freshmen on the varsity team.
The Vineyarders "need to stick to playing team defense overall . . . we've got to be defensive in all three zones, even offense," Coach Mincone said. "When we've got the puck, we're on defense."
"We're playing hungry, I'll put it that way," he said.
Last year's team was defined by its work ethic and drive, but this year the raw talent is more noticeable, Coach Mincone said. The Vineyarders are captained by senior defender Charlie Ashmun. Assistant captains are senior defender Brian Hurley and junior forwards Tyson Araujo and Brian Fraser. Araujo led the team in scoring last year, with 15 goals on the season.
Freshman Wyatt Jenkinson and senior Marc Natichioni will take on goaltending this year.
Girls' Hockey
The girls are 1-1 after the first week of play, defeating Brookline 3-2 in last Saturday's opener and taking a close 2-1 loss to King Philip on Wednesday. Junior Callie Jackson and seniors Emily Cimeno and Skylah Forend scored against Brookline, with senior Kassidy Bettencourt and freshman Belle Dinning notching assists.
Dinning scored her first varsity goal against King Philip on an assist from Jackson.
The 2011-2012 squad posted a 13-8 season record, making the playoffs for the first time ever and advancing to the second round of the post-season tournament before falling to Norwood. The team went 6-2 in their division Southeastern Massachusetts Girls Hockey League, second only to undefeated Scituate.
"Our goal [this season] is still to make the state tournament," Coach Fiorito said. The girls return with a what he described as a "good nucleus" of talent mixed with a solid influx of newcomers.
Six seniors return to the ice this year. The team is captained by Cimeno, a four-year starter who led the team in assists last year, and Bettencourt. The Vineyarders are strong in goal as well, with three-year starting senior Texe Craig back in the net and fellow senior Katy Smith looking to see ice time as well. Forend and defender Tayla Kuehne round out the senior group.
Three of the four starting defenders from last year's lineup graduated. Kuehne is the lone returnee.
The offense is anchored by Cimeno, Bettencourt, and Jackson, along with sophomores Aubrey Ashmun and Sydney Davies.
Coach Fiorito was impressed with turnout for tryouts this year, which was the highest in his three years as head coach.
"We had 13 kids for four spots," he said. "I think the interest is there."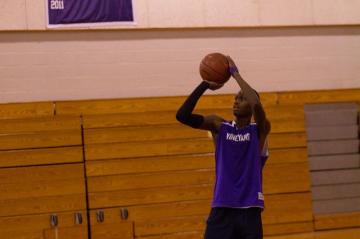 Boys' Basketball
The boys picked up a close 50-46 win over Sandwich in their season opener Tuesday. Senior Jahmari Thomas scored 16 points and nabbed 16 rebounds to lead the offense. The game was "close the whole time," head coach Mike Joyce said, with the Vineyard ahead by just four points at the half. The team struggled with shooting throughout, but shut down Sandwich defensively, holding the Blue Knights to six points in the fourth quarter.
"The defense made the difference," Coach Joyce said.
Seniors Navardo Anderson, Jack Roberts, and Brandon Watkins scored eight points apiece. Anderson also notched 12 rebounds.
Just three players return from last year's squad — Roberts, Watkins, and senior Izak Browne — which dominated the 2011-2012 season. The team went 18-2 in the regular season (21-3 overall), winning the EAC championship and advancing to the finals of the Division 3 state tournament. This year's team fields nine seniors and five juniors, with several players moving up from junior varsity. Roberts and Browne, both named EAC All-Stars last year, captain the squad. Though the team is not as experienced as previous squads, it is without a doubt "the tallest team I've ever had," Coach Joyce said. Five players stand six feet four inches or taller.
Girls' Basketball
The Vineyarders played Sandwich on Tuesday, fending off a late rally taking a 60-53 win in their opener. Senior Maggie Riseborough scored 16 points and grabbed 14 rebounds. Senior Jennie Lindland scored 13 points, and senior Katie Stewart scored 10 with nine rebounds. Freshman Mya Houston, coming off the bench in her first varsity game, scored nine points. Seniors Kendall Robinson and Alayna Hutchinson led the defense,
This year's team "looks awesome," head coach Lisa Stewart said on Thursday.
"We have a lot of good athletes who are also good basketball players, which is not that easy to come by," she said, adding that the team has the highest basketball IQ of any squad she's coached.
Four of the starting five are returning players, including junior Kat deBettencourt, who was out for much of last season.
Lindland, Stewart and Robinson are captains; returning players are seniors Riseborough, Hutchinson and Hailee McCarthy and sophomores Emily deBettencourt and Lucy Hackney. Junior Miranda Tokarz moves up from junior varsity, and Houston and fellow freshman Samantha Hargy are expected to make an impact as well.
Most of the players have been playing together since sixth grade — the seniors are the first class to come up through a full-year travel program, which gave them valuable experience against off-Island teams prior to starting high school ball. Assistant coach Maureen Hill heads the travel program.
There are currently two girls' travel squads, and "that group's just going to keep funneling up," coach Stewart said. The girls' program does not have as many players as the boys, but the travel teams ensure that the players that do compete have the skills to be competitive.
"It takes a long time to build that, it really does," Coach Stewart said.
Swimming
After two years as a club sport, the swimmers join the ranks of the other Vineyard varsity teams in their first official interscholastic season. The team will compete in the Bay Colony League, along with Cape teams like Barnstable, Nauset and Sandwich. Island rival Nantucket also swims in the league.
"We have a nice little core team started," head coach Robin Tuck said. "There's always new people learning the sport and the skills."
The swim team is co-ed, with 17 girls and six boys on the squad. Over half the girls return from the previous two years, including junior captains Jessica and Mariah Campbell. The boys are captained by senior Liam Cosgrove.
The girls hosted Pope John Paul II High School in their first meet on Wednesday, falling 83-69. Coach Tuck was nevertheless pleased with the team effort, especially since not all of the events had swimmers competing. The boys' team raced simply to establish records at the YMCA home pool.
"The team captains really pulled their weight," Coach Tuck said. "I can't say enough about them."