The Martha's Vineyard Commission began the new year meeting last Thursday with a round of introductions before getting on to more typical perennial Vineyard topics: affordable housing and seasonal lodging.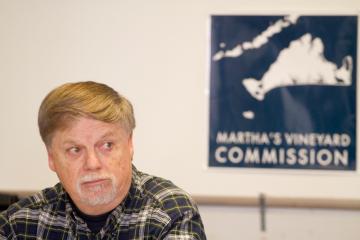 It was the first meeting for newly-elected commissioners Madeline Fisher, Joshua Goldstein and Clarence (Trip) Barnes 3rd, and Fred Hancock took over for former chairman Chris Murphy, who along with other members, has left the commission.
At the outset it was decided not to require a review by the commission for applicant Timothy Silva's plan to subdivide a 4.1-acre lot at Plum Bush Point in West Tisbury into a 3.1 acre lot and a one-acre affordable housing lot.
West Tisbury zoning allows lots of four or more acres to be subdivided in this way to allow one-acre lots for affordable housing. The commission had some concerns about the location of the Silva property, which is in the nitrogen-sensitive Tisbury Great Pond watershed.
There was some discussion about how many bedrooms should be allowed on the property given the nitrogen limits for the piece of land, with some suggesting composting toilets or denitrification systems for the property, and others saying they were worried about setting a precedent for when nitrogen limits could be skirted.
"I don't want to impair the applicants' ability to market the remaining three-acre lot," commission member Doug Sederholm said. "However, I think it's not proper stewardship to say okay, you can put a three-bedroom house on a one-acre lot under these circumstances . . . [near the Tisbury Great Pond]." He said he didn't think it was unreasonable to ask the purchaser to invest in a composting toilet system.
But some pointed out that when the 211-acre Plum Bush Point subdivision was first subdivided in 1980, 52.1 acres were set aside for conservation, and others noted that there should be a special allowance made for the affordable housing component.
"West Tisbury strictly limits the amount of money Tim can charge to [the intended purchaser] for this lot," commissioner Linda Sibley said. "If he's required to denitrify, he'll barely come out even."
Commissioner Leonard Jason Jr. said he felt the land given to conservation should be taken into consideration as mitigation for nitrogen loading.
In the end the commission set a condition limiting the one-acre lot to three bedrooms, and the remaining three acres to four bedrooms without a denitrification system. Six will be allowed if such a system is installed.
In other business, the commission decided not to require a public hearing for plans to convert Edgartown's Chadwick Inn into a 32-bedroom dormitory for downtown employees.
Jane Street Realty plans to convert the 23-bedroom inn on Winter street, just behind the Whaling Church, into a year-round dormitory for employees at the Atlantic Bar and Restaurant, the Field Club and potentially the Harbor View Hotel, with the rooms created out of existing space.
The inn's three buildings would be leased to separate groups for employee housing.
"We think this project will help the community as a whole, and provide housing which is much needed on the Island," applicant Chris Price said.
The commission had concerns about a lack of parking available at the site, which has 15 parking spaces and could have 64 occupants. Mr. Price pointed out the proximity to a bus stop, and said many of the occupants would be from out of the country and would not have cars. Commissioner Erik Hammarlund noted that the rooming house was close to a residential area, but in the end the commission voted not to require a full public hearing on the change of use.