A free flu shot clinic hosted last Sunday by the Martha's Vineyard Hospital, Vineyard Nursing Association and Island boards of health was called a success by town officials and health care workers.
"We will be less sick as a little population because of this effort, and I wanted to commend the collaboration," Cynthia Mitchell, West Tisbury selectman and executive at Island Health Clinic, said at the town selectmen's meeting this week.
"It really went very well, especially with the rapidity that we put it together," said Carol Bardwell, chief nursing officer at the hospital, yesterday. "The collaboration and the volunteers were just great."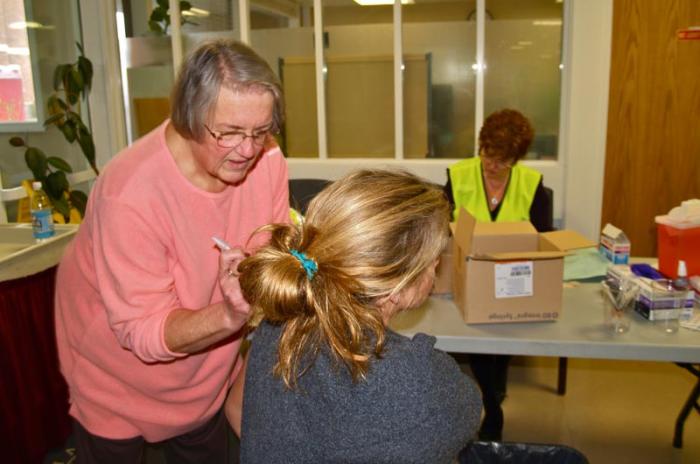 Island public health officials made the decision last Thursday to pool vaccine resources and host the Sunday clinic.
And Islanders responded. Ms. Bardwell said a line formed by 8 a.m., and the clinic officially opened its doors half an hour ahead of schedule at 8:30 a.m. The supply vaccine ran out at about 11:45 a.m., well before the clinic's scheduled 2 p.m. closing. A total of 813 doses were given out, Ms. Bardwell said, far more than the 500 expected to be on hand.
Edgartown health agent Matthew Poole said early this week that the high turnout was expected.
"We're working on pursuing more vaccine," Mr. Poole told the Gazette. Town health officials and hospital leaders will meet on Tuesday in the coming week to discuss obtaining more vaccine, which is no longer available at the hospital.
Meanwhile, flu shots were still available at Vineyard Scripts and Stop & Shop Pharmacy as of Thursday morning. It took a week for the pharmacies to restock after their respective supplies ran out. Conroy Apothecary in West Tisbury ran out of its new supply by mid-afternoon Thursday this week.
Vineyard Scripts pharmacy technician Desiree Richards said that the pharmacy had received 50 vaccines Wednesday afternoon. Within an hour of opening Thursday morning, Ms. Richards said they had administered five to seven flu shots. "People just keep calling and calling," she said. "It's first-come, first-served." Vineyard Scripts expects to receive more doses of vaccine for people 65 and older on Friday. The supply does not come from the state, however, so receiving the shot is not free.
"Most people that get [their flu shot] every year get them in November," she said. "Because the flu is so bad this year, they feel it's urgent now."
The seasonal outbreak of the influenza virus was early this year, according to the Centers for Disease Control. Last week, Boston mayor Thomas Menino declared a public health emergency in the wake of over 7,000 diagnosed cases of the flu. Instances of influenza have since fallen enough in Massachusetts that flu activity has been downgraded from high to moderate by the CDC. Updated CDC data indicates that cases of the flu in the state spiked in the final weeks of December and have fallen off since then.
Ms. Bardwell reported no current inpatients at the hospital with the flu. There were three in December. "We haven't seen what they've seen off-Island," she said.
A lab test can confirm if a patient has the flu. Symptoms include high fever, nausea and muscle aches, but flu indicators are often confused with those of other illnesses.
Public schools are seeing the effects of seasonal illness, with a higher-than-usual number of students and staff out sick in the past week, Vineyard schools superintendent James Weiss said. But he said not all were flu cases. Stomach bugs and influenza-like illness were prevalent as well.
"Up-Island was hit really hard," Mr. Weiss said.
The town of Chilmark may be the hardest hit. Town executive secretary Timothy Carroll reported that most of town hall staff was out this week, with only three people in the office. Chilmark School principal Susan Stevens — who had the flu herself over Christmas break — said that about 30 students were out sick on Monday and Tuesday, which is more than half the student population. Recovered patients have trickled back into class throughout the week, Mrs. Stevens said.
"We're over the hump," she said.