Sometime last week in the evening or pre-dawn hours, a mother cat and two tiny four-week-old kittens were left on the doorstep of the Animal Shelter of Martha's Vineyard. Luckily Janelle from the Vineyard Vet Clinic was coming to work early and found the little family and took them inside the clinic until they could be brought into the shelter. The shelter does not question why animals have to be given up, but it is cruel and unacceptable to leave them out in the cold.
The kittens are adorable little gray tigers, like their mother. When they are old enough, in three or four weeks, they will be put up for adoption. If you have to give up an animal for any reason, call the shelter, or if it is after hours call your animal control officer or veterinarian.
The shelter has two pale, buff-colored five-month-old beautiful and sweet kittens available for adoption; their names are Freckles and Mario. Caleb a shy, sweet five-month-old orange tiger kitten is ready to go to a new home too. Happily Rex, our old gentle lady, has been adopted.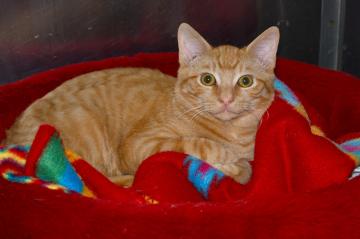 This week the shelter also became home to two sweet little dogs: one a Chihuahua named Jerry and the other a Chihuahua-Italian greyhound cross named Millie whose owner died suddenly. They don't really understand why they ended up at the shelter so they are still quite shy, but very sweet and would make wonderful pets.
The shelter would like to give special thanks to Skye Sonneborn, a teacher at the West Tisbury School, and four of her students — Maggie Mayhew, Greta Gannon, Amanda Pachico and Ivy Basset — who organized a bake sale and raised $310.21 which they donated to the shelter. It is events like this that keep the shelter going.
Shelter hours are Tuesdays and Wednesdays 8:30 a.m. to 2:30 p.m., Thursdays and Fridays 8:30 a.m. to 6:30 p.m. and Saturdays 8:30 a.m. to 4:30 p.m. The shelter is closed Sunday and Monday. The telephone number is 508-627-8662.
Contributions are always gratefully accepted; the shelter is are funded solely by donations. Please make checks out to The Animal Shelter of Martha's Vineyard; the mailing address is P.O. Box 1829, Edgartown MA 02539.