A prominent Island businessman was sentenced to two years in the Dukes County house of correction Friday for child assault charges.
Steven A. Schwab, 65, pleaded guilty to charges of indecent assault and battery on a child younger than 14, assault and battery and two counts of open and gross lewdness Friday morning in Edgartown district court. The Hon. H. Gregory Williams sentenced Mr. Schwab to serve two and a half years in a house of correction on the indecent assault and battery charge with one year to serve and the balance suspended five years, with probation to begin upon release. He was ordered not to have unsupervised contact with children under 14, to register as a sex offender, not to contact the victim, to continue treatment until discharged, and to pay a $90 victim/witness assessment fee and a $65 monthly probation services fee.
Mr. Schwab was sentenced to another year in a house of correction for the assault and battery charge, to be served after the sentence for the first count. He was sentenced to one year in a house of correction for each charge of open and gross lewdness, to be served concurrently with the other counts.
Mr. Schwab, the former vice president of Martha's Vineyard Insurance Co. and a well-known figure in the Island community, was charged with exposing himself to his niece over a period of time about four years ago, when she was between seven and eight years old. According to a Cape and Islands assistant district attorney Laura Marshard, Mr. Schwab also asked the girl to touch his genitals, and pinched her on the buttocks when she would not kiss him good night.
The child's mother — their names are being withheld — gave an emotional impact statement in court.
"This is not about revenge, and I forgave Steve right from the beginning and I still do," she said. "But a crime has been committed."
She said she felt sadness for all involved, and cited her daughter's young age and the length of time the incidents took place as reasons she requested the maximum sentence.
"I think he should serve time in jail because he committed a crime," the mother said. "He and others of his ilk need to know this is not going to be tolerated."
Ms. Marshard recommended that Mr. Schwab serve one year of a two-and-a half-year sentence, noting that the plea agreement spared the victim from having to go to trial.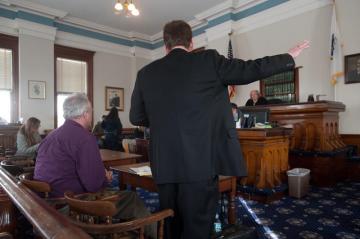 Mr. Schwab's attorney, Tim Kelliher, said that Mr. Schwab is "truly sorry" and said that he took responsibility for what he did, attending sex addicts anonymous meetings three to four times a week. He noted that Mr. Schwab's sponsor and his psychotherapist were in court with him.
Judge Williams rejected the recommendation and said he was sentencing him to two years in prison. The court took a recess so Mr. Kelliher and Mr. Schwab could discuss the sentence, and when court was back in session, they agreed to the judge's sentence. The victim's mother requested that Mr. Schwab serve his sentence off-Island, but Mr. Kelliher requested that he be allowed to serve his sentence on the Island. Judge Williams agreed to that request, and Mr. Schwab was placed in handcuffs.
The plea agreement came after several aborted attempts. In October, the parties gathered for a plea agreement that fell apart over whether Mr. Schwab would serve jail time. At that time, Judge Williams found for a sentence of two and a half years in a house of correction with one year to serve, but the defense rejected this and a trial was scheduled. Last week, a disposition was underway when Ms. Marshard fell ill and had to leave the courthouse.
Mr. Kelliher had no comment after court, other than to say that Mr. Schwab was "truly sorry, and has been truly punished."
Editor's Note: this story has been updated from the original to remove sensitive information.