Linda Marinelli, a career Vineyard politician and former longtime Oak Bluffs selectman whose firebrand style and tireless, bruising crusades in the name of open government were legendary, died Jan. 31 in Falmouth. She was 81.
She was a classic Island character, lacking formal education but accomplished and self-taught in all things, from her prodigious truck garden on a cove of Sengekontacket Pond where she and her husband grew tomatoes worthy of a seed catalogue cover, to the corridors of the Oak Bluffs town hall, where for decades she played the role of chief troublemaker in the small town whose scrappy squabbles were its signature.
Throughout her life she worked a variety of jobs: nurses's aid, taxi driver, EMT, fishmonger. She ran a bay scallop shucking operation at her coastal farm in the days when scalloping was a way of life for hundreds of Islanders. She grew up dirt poor in southeastern Massachusetts, married for the first time at age 15 and many years later found true love on the Vineyard in a second-generation Italian farmer and fisherman. She had a cackling laugh and while she never saw herself as a feminist, she clashed frequently with the old-boy network in her town. She chronicled her own life in her 2002 unpolished, tell-all autobiography Never Say Die.
Linda Marinelli had one speed and volume: high. And when she eventually stepped out of public life and retired to a modest ranch house on the Edgartown-Vineyard Haven Road near the regional high school, she transposed her loud ways into her colorful gardens, growing dahlias the size of small plates that would dazzle passersby with their stunning perfection.
"I suppose I am a pain to some people," she told the Gazette in a 1983 interview. "My husband has a favorite saying. He says I could nag the devil right out of hell. But if that's the only way I can get something done, I'll do it. What's right is worth fighting for, even if it means chasing the devil right out of hell."
Deolinda Gladys Frizado was born on Feb. 27, 1931, in Berkley, a small town near Taunton, the youngest of 12 children. Her family was poor and subsisted on their farm, living in a house with no central heat or running water. She was bright and took to schooling at an early age. "I loved to go to school," she recalled in her memoir. "I passed all my grades and wanted to learn."
At the age of 10 she had her first town hall experience. All her life her mother had called her Dorothy. "It just didn't feel right," she told the Gazette in a 1984 interview. On day after school she went to the Berkley town hall which was next door. "May I see my birth certificate please?" she recalled asking the clerk. She learned that her name was in fact Deolinda. She confronted her mother, who confessed that she liked the name Dorothy because it meant gift from God. Headstrong Deolinda would have none of it and reclaimed her birth name, eventually dropping the Deo to become Linda. When she was 11 her father tried to take her out of school to work on the farm, and her fiery nature quickly revealed itself. "I was so angry that I went to the school superintendent," she recalled in her book. She prevailed and stayed in school. Her home life fell apart at a young age, fueled by her mother's alcoholism. Her parents divorced and her mother would die a few years later. Meanwhile, at age 13 Linda met a boy and two years later he asked her to marry him. "I had been sheltered so long that I did not realize the disastrous results this relationship would bring into my life," she wrote in her memoir. They had one daughter. She summed up her life during the young marriage in the chapter in her book titled: "My Husband Was a Cheat." The marriage ended; she gave her daughter to her mother in law for temporary care and found herself adrift, working odd jobs to make ends meet, unsure about what came next. She went to Connecticut, where someone mentioned a place called Martha's Vineyard. "They told me it was a great place to live, that it was peaceful and not too many people lived there, at least in those years," she said. She arrived on the Vineyard in the summer of 1957. "I knew at a glance that I had made the right decision," she wrote in her memoir. "The landscapes, the large homes, the gingerbread houses and the many historical places stole my heart."
She made the Vineyard her home for the next 50 years. Soon after moving to the Island she met Charles Marinelli whose family owned a farm on Sengekontacket. They married in 1961 and carved out a rugged, full Island life, fishing and farming, living simply and working hard on the land and at sea. They had two daughters. The unsinkable Mrs. Marinelli returned to southeastern Massachusetts to find her first daughter, discovering that she had been placed in St. Vincent's Home for children. She gained custody and brought her back to the Vineyard.
In 2001 she and Charlie celebrated their 40th wedding anniversary. "The happiness I have had with this man had made my life complete," she wrote in her memoir.
Her foray into town politics began in the 1970s and lasted for two and a half decades. She became a member of the town school committee, finance committee and hospital board of directors. In the late 1970s she went door-to-door to gather signatures in the campaign for Oak Bluffs to withdraw from the Martha's Vineyard Commission ("It's communism for people to impose rules on me and I don't want to live in Russia," she said). A short time later she recanted and became the commission's strongest supporter. "I was completely wrong about the commission," she told the Gazette.
"One need only attend a regional high school committee meeting to see that Mrs. Marinelli doesn't wage her battles quietly," the Gazette writer observed in the 1983 profile. "Meetings that used to last two hours are often marathon sessions ending past midnight."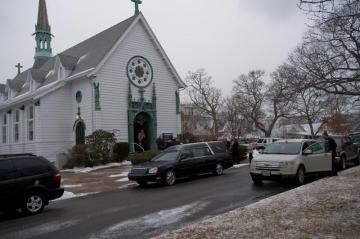 Still, despite her outspoken nature, at the time she shied from seeking a top elected post of selectman or county commissioner.
"I have to be very honest with you. I'm not totally in agreement with this women's lib movement," she told the newspaper. "I happen to respect my husband a lot and I know through discussions with him [running for selectman] would make him unhappy."
That view changed of course, and in 1986 she did run and was elected. In 1988 she resigned in a fire storm of controversy — Mrs. Marinelli knew no other way — and then returned. She was ousted from office in 1993, and returned from 1996 to 1999, her final term.
Her battles were too numerous to list; some were won while others were lost. She used every means available to make her voice heard; she frequently wrote peppery letters to the editor on a variety of topics and could always be found near the microphone at public hearings.
She crossed the line at times, and was censured by her fellow selectmen at one point and reprimanded once by the state ethics commission for her behavior. Compromise and diplomacy were not part of Mrs. Marinelli's vocabulary.
But her legacy was her famously-waged one-woman battle begun in the 1980s to prove that the town, not the East Chop Beach Club, owned a piece of harborfront property that the club had for years believed it owned. She read old deeds and records and concluded otherwise, and studied the legal issues in an incomplete set of Massachusetts General Laws that she bought for a dollar at the West Tisbury book sale. She spent her own money to press the court case. While it was ongoing and the club tried to repair an adjoining bulkhead, Mrs. Marinelli blocked a crane by standing in front of it.
After a 10-year battle she won, at least temporarily when a ruling in state land court favored her position on behalf of the town. The ruling was later reversed but with a key concession: a public right of way was created through the property to the waterfront. Today the path is known as Marinelli Beach. "Ten years of my life to set the record straight and gain passage to the beach for the people of Oak Bluffs and others," she wrote in her book. "I was never a beachy person, bitchy, but not beachy. I believed then, and still believe now that the beaches belong to all taxpayers."
She never took vacations, didn't like to travel, saying the Vineyard had everything she needed. She visited Gay Head for the first time in 1982, three decades after she had moved to the Island. Her favorite pastimes were gardening and reading law books.
She and Charlie sold the farm in 1980 and moved to the house on the Edgartown-Vineyard Haven Road. Today the farm is Pecoy Point Preserve, a Martha's Vineyard Land Bank property.
Charlie Marinelli died in 2008 after battling lung cancer for years. The following year Linda moved to Mashpee to live near one of her daughters.
"Linda is leaving us her own way, on her own steam. Still, we are diminished. Who can replace her?" wrote Peter Palches in a letter to the Gazette following her farewell party.
Services were held Tuesday at Our Lady Star of the Sea Church in Oak Bluffs, followed by interment at the Sacred Heart Cemetery in Oak Bluffs.