Ferry service to the Vineyard was set to resume early Sunday morning following a 24-hour battering from the prolonged blizzard that hit eastern and central Massachusetts with a vengeance this weekend.
The Steamship Authority announced Saturday evening that the 6 a.m. ferry between Vineyard Haven and Woods Hole was expected to run Sunday. Boat line service was suspended Friday afternoon and throughout the day Saturday. Most major transportation links were shut down, including air and bus travel on the mainland, during the storm.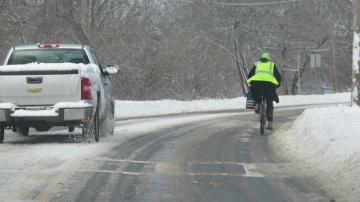 Islanders spent Saturday digging out from the storm, which pelted the Vineyard with snow, ice and hurricane-force wind gusts Friday night and early Saturday. The Martha's Vineyard Shipyard clocked a peak wind gust of 83 miles per hour overnight Friday.
The storm caused scattered power outages across the Vineyard, the outages were widespread in the up-Island towns of Aquinnah and Chilmark early Saturday morning.
Wind-driven snow drifts piled up on roadways and highway crews worked around the clock with heavy equipment to clear snow and ice from the roads. Driving remained treacherous, even after a statewide travel ban was lifted late in the day.
At least one intrepid Islander refused to let storm cancellations keep him from his responsibilities.
On Saturday afternoon as the sun began to break through heavy storm clouds, Alan Hampshire of Chilmark rode his bicycle down State Road in West Tisbury, on his way to Vineyard Haven, where he hoped to catch a bus to Oak Bluffs and check on his boat. "There are no buses running," from Chilmark, he said. "I figure I'll take my time."
John Kennedy contributed reporting.