For only the second time in the 16-year history of the Fairleigh S. Dickinson Tournament, the winner's cup went to the hosting Vineyarders, who triumphantly raised the trophy Sunday afternoon after defeating Weston 4-3 in the championship game.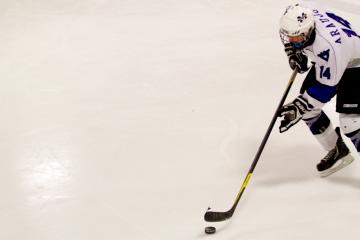 The Vineyarders had beaten defending champs Lynnfield 3-2 on Saturday night.
"It was a good win," assistant coach Max Sherman said after the championship game. "We're not 100 per cent satisfied, but a win's a win," he said.
The Vineyard started off strong, with junior Brian Fraser scoring the first goal two and a half minutes into the game on assists from junior Sam Burke and senior captain Charlie Ashmun.
Though a cross-check penalty late in the period forced the Vineyard to play a man down, the team continued to dominate. Junior Tyson Araujo rushed the Weston goalie and notched his first goal of the afternoon. Araujo followed up the score with a second goal three minutes later, with assists going to Fraser and senior Kyp Cooperrider.
The Vineyard entered the second period up 3-0, but Weston's offense was not yet finished playing and quickly bumped up the score to 3-2. With 18 seconds on their power play, Weston potted a third goal to even the score.
Only five minutes remained in the game when Araujo nabbed a Weston pass in his own defensive zone and burst down the ice. He outpaced his defenders and faked a center shot at the goal before slamming the puck past the goalie's left leg. The game had to be paused briefly to clear a slew of hats off the ice.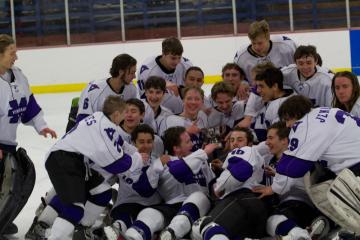 Refrains of Stayin' Alive could be heard coming from the locker room after the victors had streamed off the ice.
The coaching staff praised the impact of the Vineyard bench against Weston.
"The players that don't play all the time stepped in and had meaningful shifts," coach Sherman said, adding that it was thanks to the team leadership that the Vineyarders were able to recover in the third period.
"That stuff's going to come down to how you respond to it," he said.
The team's final game of the regular season, as well as Senior Day, takes place Friday against King Phillip at 6:30 p.m.