The back wall of the Martha's Vineyard Arena received extra decoration on Friday.
First up were the seven poster boards, bedazzled with sprinklings of glitter and announcing the names of the senior girls on the junior varsity and varsity hockey teams. Next up came the 10 cardboard T-shirts, painted to look like the jerseys of the seniors on the boys' teams.
Senior Day comes only once a year, and although the winter season continues for both the boys' and girls' teams — tournament seedings will be announced later today — the final home game still resonates.
"It's emotional for everybody," assistant coach Max Sherman said after the boys' game, in which the team stormed to a 5-1 win over King Phillip. Junior Tyson Araujo notched his 100th career point, but the senior power also shined. All of the seniors put in shifts: Kyp Cooperrider scored the first and last goal for the Vineyard and had two assists, senior Max Davies and Shay Hill each notched an assist and goal, and assistant captain Brian Hurley assisted on a Cooperrider score. Huck Burke and Harrison Rodrigues proved key on the grind, wearing down King Phillip throughout the game.
"You've got players with different roles, whether captain [Charlie Ashmun] or backup goalie [Marc Natichioni] . . . they all elevate those roles," coach Sherman said.
Senior Day ceremonies are recognizable regardless of sport — the flowers, the hugs and handshakes, the proud families wearing jerseys or letter jackets in honor of their players. Before the puck dropped at their respective games, players lined up on to salute the future graduates, clapping sticks against the ice and cheering. Seniors receiving flowers from their coaches, which they skated over to their parents, who waited on a "red carpet (actually faded pink) rolled onto the slick ice. It wouldn't be a hockey ceremony on dry land.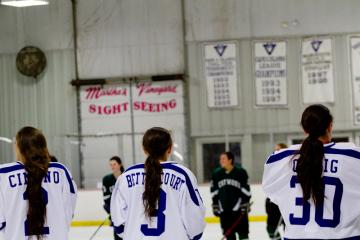 The girls' team took on Division 2 powerhouse Westwood, falling 6-1, but loss is a footnote in the seniors' history. The seniors — captains Kassidy Bettencourt and Emily Cimeno, goalies Texe Craig and Katy Smith, forward Skylah Forend and defender Tayla Kuehne — have won more games (24) than any graduating group in the program's history.
Head coach John Fiorito said he was especially proud of the seniors' growth with the team. Forwards Bettencourt, Cimeno and Forend took up hockey relatively late in their sports careers, he said, and had poured in the needed hard work to end up in their roles. Kuehne was the lone senior returnee to the defense this year, and "really picked it up" this year, assistant coach Nell Coogan noted. The two goalies "obviously stand out," coach Fiorito said. "We've been spoiled to have two."
"It's going to be sad to see them go," he said.
With the impending postseason, though, all of the seniors will get more chances to play with their squads.
"Now the games really start to matter," coach Sherman said. "It's always nice to keep playing."