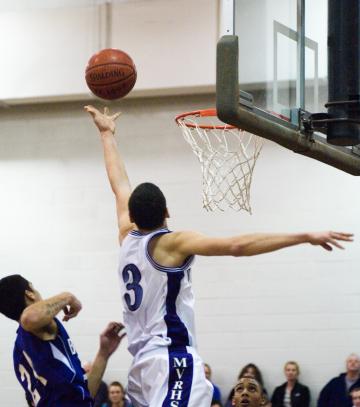 They hadn't played a game in two weeks, but the Vineyard boys' basketball team brushed off the rust to overpower Bourne and advance to the quarterfinal round of the division three state tournament Wednesday night.
The final score of the game, played at home in the Sancy Pachico Gymnasium, was 77-44.
Senior captain Jack Roberts led the Vineyarders with 21 points, 10 in the fourth quarter, while cocaptain Izak Browne had 15.
"We came out running early, and it really worked, but then when we had to settle down and play half court, we were a little rusty," head coach Mike Joyce said after the game. "I warned my kids: Bourne plays hard . . . no matter what the score is, do not ease up, do not slow down."
The team held the Canalmen to just four points in the first quarter, but Bourne rallied in the second and pulled within 10 points of the Vineyard.
The Vineyard came out strong in the second half and with stifling defense kept the game well in hand until the end.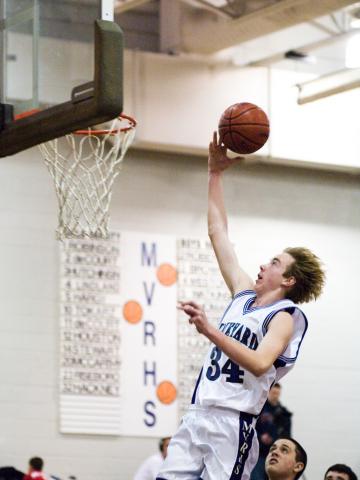 All players came off the bench to see game time, including sophomore Tim Roberts, recently promoted from junior varsity.
"This was a good game to start...at home in a comfortable environment against a team we've played before," Coach Joyce said. "This [Vineyard] team, when they play hard, they're a tough team to beat. The team will go as far as their effort will take them."
Eight seniors were recognized at halftime eight for their contributions to the team. The boys' scheduled senior day game was canceled earlier this month due to a snowstorm.
The boys will play number-three seed Bishop Feehan at 6 p.m. Friday away. A fan bus is being organized; for information call the high school at 508-693-1033.
MIAA tournament play continues at home today with the boys hockey team facing off against Dedham at 3:15 at the Vineyard arena; girls basketball gets under way across the road at the high school at 5:15 p.m.
Click here for more photos from the game.