It takes five minutes for the crew at U.S. Coast Guard Station Menemsha to walk from main headquarters to the search and rescue vessel. Five minutes may seem like a short time, but add drysuits, anti-exposure and flotation coveralls, boating tools, supplies, artillery and sometimes protective vests, and a five-minute walk can feel like a lifetime.
Absent a boathouse where all their gear and supplies would normally be kept, Coast Guard crew members make this laden walk several times a day. The station has been operating this way since July 2010, when the 68-year-old boathouse and surrounding piers were destroyed in a fire. The piers have since been rebuilt, and a new $10 million federally-funded boathouse is slated for construction this summer. The government contractor is Mortenson Construction of Minneapolis, Minn. A construction barge will be parked adjacent to the Coast Guard pier for seven months while the building goes up.
Final designs for the 3,160-square-foot, two-story structure were presented to the Chilmark conservation commission last month.
One key purpose of the new building is to house station Menemsha's 25-foot search and rescue vessel, used primarily for law enforcement work, in addition to the 47-foot cutter that stays in Menemsha harbor.
On Monday afternoon, a rare mild February day, petty officer Kyle Gomes prepared for an outing on the search and rescue vessel. "Crew fitness — how's everyone feeling? Good?" Mr. Gomes said. "It's a beautiful day out." He made his way through a safety checklist. Sea conditions were one to two feet, with a visibility of six-plus nautical miles. Winds were at 14 knots from the northeast, the tide was going out.
Mr. Gomes guided the boat out of the channel and headed to Menemsha Bight, the Gay Head Light visible on one side, the rugged coastline of the north shore on the other. He steered the red boat through the ebbing tide.
The station tries to keep the 25-footer in the water as much as possible, senior chief Jason Olsen said, but if a large storm such as Hurricane Sandy comes through, the boat must be put on a trailer and hauled.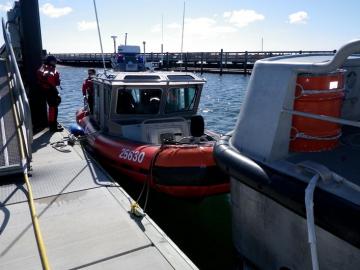 Station Menemsha serves the Vineyard and Cuttyhunk, and provides backup for New Bedford, Westport and Woods Hole. The station rarely responds to search and rescue calls; those are handled from Woods Hole and other larger stations, Mr. Olsen said. Mainly the focus is on law enforcement in local waters, including ensuring boaters have proper registration and safety gear.
Station Menemsha performed just over 280 boardings last year, a small number compared with the 1,000 or so some units in the south perform, Mr. Olsen said. This year the Vineyard unit is anticipating 350 boardings.
Mr. Olsen said the new boathouse, while not universally popular with Chilmark residents and elected officials who fear its large size will be out of scale with the fishing village, has been designed with the future station needs in mind. In addition to housing the search and rescue vessel, there will be separate changing rooms for men and women and organized storage areas for gear and supplies. Having a central facility will create small but vital efficiencies, including at the main facility up the hill where some barracks rooms were converted to storage areas following the fire, forcing two junior crew members to be housed off campus.
Currently Mr. Olsen is working on a memorandum of understanding between the Coast Guard and the six Island police departments to assist in law enforcement. Harbor master Dennis Jason and the crew also plan to go into the remote reaches of Menemsha Pond so the Coast Guard can "lay down some track lines" and "open up our response capabilities," Mr. Olsen said.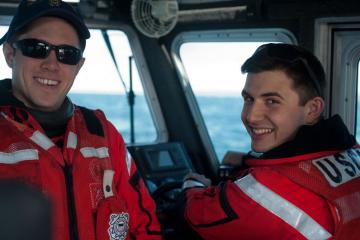 Petty officer Dallas Dutton said the biggest challenge in working without a boathouse is a lack of ready access to tools and supplies, now stored in a cramped trailer up the hill.
"We have a trailer that is jammed with a bunch of parts that came from a room twice the size of it," he said. "Finding parts is like finding a needle in a haystack."
As the boat turned back to head into Menemsha channel, Mr. Olsen reflected some more. He praised the contractor for responding to community concerns.
"Obviously we're the customer, but the community is our customer," he said. "I'm confident that the contractor is going to work with everyone to alleviate all of the town's concern. We heard them. The district is aware of it and they're going to do their best to make it as less of an inconvenience and a hardship to the town, without putting us too far back."