Next weekend, moviegoers will gather at the Chilmark Community Center for the 13th Annual Martha's Vineyard Film Festival. They will sit on bales of straw in the Hay Café and eat chef Chris Fischer's home-cooked meals as they listen to local bands jam. But mostly, they will seat themselves in the cozy main room of the Chilmark Community Center, ready to get lost in the onscreen worlds of the 14 films in this year's lineup.
The organizers of the festival said one of their main goals for the event is to gather the community.
Another goal that dates back to the festival's inception is to get audiences to think — to think about the stories, the characters and the themes on the screen. And once the movie ends, that's when the conversation begins.
Each year, the selection committee for the festival — founder and executive director Thomas Bena and programming director Brian Ditchfield, along with Anne Evasick, Lilian Robinson and associate programmers from around the Island — sift through hundreds of movies searching for particular films that will spark discussion. In total, the group watched over 200 movies to arrive at the class of 2013. The selections range from a cinematic ballad for Alabama music (Muscle Shoals) to a fictional exploration of time travel (Safety Not Guaranteed).
The festival begins on Friday, March 15, with a screening of The Crash Reel, directed by Oscar-nominated director Lucy Walker, which tells the story of champion halfpipe snowboarder Kevin Pearce's recovery from a head injury suffered while training for the Olympics. Mr. Pearce's family accompanies the athlete as he walks the long road to recovery.
"Even though it's around something that's dramatic and traumatic...the way the family rallies, you get filled with so much hope," Mr. Ditchfield said. "And I think that's more and more becoming our message."
In its early years, the festival was largely devoted to social-issue documentaries, and though it still features films with challenging subject material, Mr. Bena said the selection group is seeking engagement over simply slamming audiences with back-to-back-to-back real-life horror films.
Still, the festival is mostly made up of documentaries. This year, they constitute 12 of the 14 films, six of which are by female directors. It's not that the committee watches more documentaries; it's that they find the stories they tell are the most powerful and surprising.
"To boil it down, I find documentaries to have more of those moments where it's like, Oh my God, that could happen?" Mr. Bena said. "You know, that life is stranger than fiction."
"And I love that moment," he continued. "I love seeing real life unfold and watching the actual people who aren't acting."
Some documentary selections, like Treva Wurmfeld's Shephard and Dark, still feature actors. In this case, the actor is award-winning playwright and actor Sam Shepard, but presented in a context completely different even from what the director herself expected. Initially a profile of Mr. Shepard himself, the film quickly became an examination of his decades-long friendship with New Mexican recluse Johnny Dark.
"Their history is really compelling . . . so I quickly expanded what I had set out to do," said Ms. Wurmfeld, who will be in attendance at the festival.
Some selections blur the line between real life and make believe, as in the case of the film Mr. Ditchfield "fought-for" — the one movie he was absolutely certain needed to make it into the lineup. The film, Caesar Must Die, is part narrative, part documentary and tells the story of a group of prisoners in a Roman jail staging a version of Julius Caesar.
"It's acted, but it's in these real circumstance, so it feels otherworldly," Mr. Ditchfield said, speaking excitedly about the genre-blending of the film.
In keeping with the spirit of the film, a performance of Julius Caesar, as interpreted by the Vineyard acting troupe Shakespeare for the Masses, will precede the Sunday afternoon screening.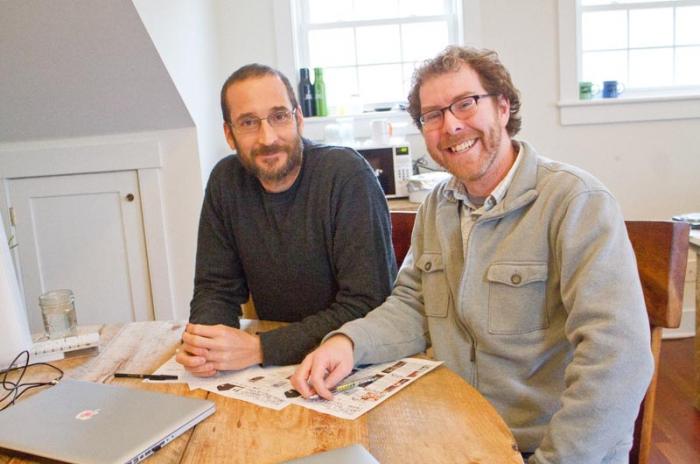 The featured guests and speakers who come to the Island to help spur discussion are a crucial part of the film festival, so much so that some selections in the lineup are determined by whether or not a potential speaker can attend.
"Sometimes we're asking about a guest at the same time we're asking about a film," Mr. Ditchfield said. Guests are often screenwriters or directors, but there's nothing quite like having a film subject in attendance.
"When a film subject is able to attend, it allows you that moment — you've just sort of dug into their lives, and you get that personal interaction, and you get to ask all the things you wish you had known," Mr. Bena said.
Craig Wilder, a history professor and department head at Massachusetts Institute of Technology, isn't exactly a film subject, but he appears in two different films discussing the historical context of each one: The Central Park Five, which shows Saturday night, and My Brooklyn, which shows Sunday afternoon.
"Academics have an obligation to sort of help give history to the public," Mr. Wilder said in a phone interview this week. "And there are people that are...engineering these creative ways of doing that." When Mr. Bena called him to invite him to attend, Mr. Wilder readily agreed. He first became aware of the power of film in the 1990s, while assisting with Ric Burns' PBS series New York.
"To me, I think that's one of the things that is most compelling, seeing the way that people respond to this medium," Mr. Wilder said.
My Brooklyn documents the borough's gentrification as seen through the eyes of director Kelly Anderson, who is also attending. The Central Park Five, directed by Ken Burns, David McMahon and Sarah Burns, details the 1989 Central Park Jogger case and its aftermath, in which five New York youths were tried and convicted for a brutal rape. The ruling was overturned in 2002 in light of new evidence, and the convictions also overturned. A lawsuit is currently pending between the five men and the city of New York.
Mr. Wilder will moderate the Saturday night Q&A following the Central Park Five screening. Yusef Salaam, one of the Central Park Five who spent seven years in prison as a result of the initial conviction, will also be at the screening along with some of his family members.
Mr. Salaam has been attending screenings and Q&As since the film's premiere in November. "Too many to count," he said in a phone interview.
"You're able to engage the crowd, and it's been pretty good," Mr. Salaam said. "Because as you can imagine, we were once shunned by many folks." Mr. Salaam said he views the film's release as a way to effect change based on his own experiences with the police and court system.
Though well-received by film critics including Manohla Dargis and Roger Ebert, Ms. Dargis cited the film for its "incompleteness." The City of New York, a defendant in the ongoing lawsuit, has taken a more negative stand.
"We anticipate that many more facts will come to light as the lawsuit proceeds and would urge viewers to withhold judgment," New York city Law Department senior attorney Celeste Koeleveld wrote in a statement.
"It is a powerful enough film that if you did see it, you would be like "Oh my God, I want to go and talk to this film subject afterwards," Mr. Bena said. "That's the experience you want to have."
The same is true for the subject of May I Be Frank, Mr. Bena's fought-for film and the last selection to make it into the festival, just two days before the film bill had to be sent to the printer. Alysse Fischer, who will be performing at the Hay Café, brought the movie, which chronicles the beginning steps of one man's journey to combat his obesity while sobering up, to the team.
"With May I Be Frank, it is a first-time filmmaker, but again, that subject was just so captivating . . . Thomas was like 'That film must go in,'" Mr. Ditchfield remembered.
The combination of a social-issue plus a feel-good overtone was all it took to hook Mr. Bena. And once he realized subject Frank Ferrante would be able to come to the festival, the film was a lock.
"He is funny, he is charismatic, I trust him, I want to follow him," Mr. Bena said.
"I had no idea how much the subject matter would affect people," said Mr. Ferrante in a phone conversation. "You see that it's not just about weight loss, about food, it's about life and transformation, and what it means to go through...certain challenges in life and get to the other side." Like Mr. Salaam, Mr. Ferrante said he "had no idea that I was going to be a spokesman for these things."
"I love it. One of the things I enjoy the most is interacting with the public," he said.
And interaction is encouraged far beyond the official post-screening discussions.
"It's such a tight-knight community, and we're all hanging out in this one spot," Mr. Ditchfield said, describing the scene as a "community living room."
"You really are in line getting your meal, and there's the filmmaker," Mr. Bena said.
And the conversation continues.
The Martha's Vineyard Film Festival takes place at the Chilmark Community Center on March 15 to 17. For a complete list of films, times and tickets visit tmvff.org.