For the past 10 years art teacher Janice Frame has met with students after school on Tuesday afternoon in the school library. She and the students meet to review poems, short stories and artwork for the Martha's Vineyard high school student literary magazine Seabreezes. Ms. Frame, along with English teacher Bill McCarthy, acts as an advisor for the magazine. But after this year she will step down when she retires after working 28 years as an art teacher at the high school.
During each of the last three years Seabreezes has received awards of excellence from the National Council of Teachers in English. This year the magazine received the award of Superior Achievement, the highest recognition award among Massachusetts schools for its 2012 edition.
"This year we were on top," Ms. Frame said, "which is very exciting for me, especially going out."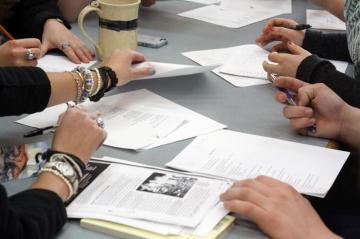 The magazine itself extends beyond Ms. Frame's time. The high school published its first Seabreezes edition 32 years ago.
"It used to just be in black and white," Ms. Frame said. "That was a whole different book."
Last year's award-winning magazine cover featured a luminous fish drawn by student Samantha Valley. Inside the pages were poems and stories of broken hearts, secret admirers, dysfunctional families and humorous haikus.
Alongside the written word were photographs of vibrant blades of grass and Vineyard beaches, as well as sketches of piercing eyes and cartoony cha cha dancers.
"This was made with 1/8 inch pieces of magazine," Ms. Frame said as she pointed to a picture of student Hannah Moore's mosaic dress, tiled with hundreds of colorful pieces. "It took her two years to finish."
"And this was displayed at Carnegie Hall," she said of student Leah Fortes's soft, eerie black and white portrait.
While the art submissions steadily flow in, the Seabreezes crew has a tougher time with the literary side.
"It's not always easy for students to think of their work in public," Mr. McCarthy said. "They are very vulnerable."
"Students are shy, scared, nervous," added Ms. Frame.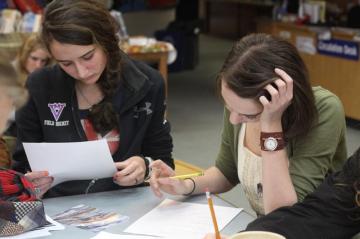 With only a couple of months to go until this year's magazine is edited, designed and published, the Seabreezes team still needs double the literary submissions. Not to mention a fresh batch of editors, since many of the current editors will graduate this year.
On a Tuesday Ms. Frame sat with students, her thin glasses perched on her smiling face and arms and legs loosely crossed as she listened in while the editors dissected the day's submissions.
"They have to come to a consensus with the writing, which is tough," she said. At the moment the students were focused on poetry submissions, the subject matter ranging from music to seat belts to glass coffins. Some poems were humorous, others left the group thoughtfully silent. "I think it's clich é ," said one of the editors-in-chief Carter D'Angelo about one of poems. "But I do think it's honest."
At the end of the meeting, the students had successfully sifted through the pieces, creating yes, no and maybe stacks.
Ms. Frame said that despite her moving on, she has no worries about the students continuing to produce an eclectic, nationally-recognized magazine.
"I just put it together," she said. "It's really the kids."