Phil Swift is waiting for the forsythia to bloom. The yellow harbingers of spring mark when the first loads of fertilizer can go down, when the final pruning should be attended to and when home gardeners re-emerge from the winter thaw.
"My forsythia have been trying to bloom all winter, especially on the nice days," he said on a cool March morning at Jardin Mahoney in Edgartown "I always refer to the forsythia. When the forsythia start to bloom it's a good time to get the first feeding on everything, time to put down the grub control because they're going to start getting active."
Mr. Swift has been working at Jardin Mahoney since 1999, a longtime fixture at the family-owned garden center. A carpenter by trade, Mr. Swift had never worked with plants "in a professional" way before working at the nursery. Now, his colleagues refer to him as the lone ranger.
Originally from New Bedford, Mr. Swift still carries a deep Massachusetts' accent. But behind the blue eyes and suntanned skin, Mr. Swift is a shrub kind of guy.
"You've got quite a variety and there are a lot of flowers involved with shrubs," he said. "You can use them in just about any situation. Talk to one of us and we can steer you in the right direction of the right shrub."
Mr. Swift is at home in the greenhouse, now packed with palettes of different fertilizers but still awaiting the first arrival of spring plants.
"This greenhouse gets so full in spring with impatiens, you can't even move in here," he said. "Christi, when do impatiens start coming in? Around forsythia time?"
Manager Christi Mahoney said pansies will arrive first, followed by the impatiens. Due to an airborne mildew outbreak, this year the garden center will steer people away from the traditional impatiens and toward the New Guinea impatiens instead, she said.
"I like the New Guineas," Mr. Swift said. "I think they're prettier."
Cleaning up beds, opening up covered plants to allow air flow in and prevent fungus growth, seeding and crab grass prevention with corn gluten are all spring must-dos, Mr. Swift said. Pruning hydrangeas is also a good idea while it's still cool outside.
Garden center co-owner Paul Mahoney advised gardeners to deadhead the flowers in the next month.
"The easy answer is to prune them in July, but no one is going to do that," he said. "A lot of time people feel they have to prune them, but if you don't need to just leave them alone."
Ornamental grasses can be trimmed down now, too, Mr. Swift said.
"I like to leave them over the winter because the tufts look nice in the snow," he said.
Crab grass, considered a lawn pest, is often the result of a calcium deficiency in the soil, Mr. Swift said, and a lime additive can help in the spring.
"People come in and try to do 10,000 square feet with two bags of lime, but you need 40 pounds per thousand square feet," Mr. Swift said.
Mr. Swift and Mr. Mahoney said there has been an increase in organic supplies in the last few years, "especially around the salt ponds and streams," Mr. Swift said. "People have become enlightened."
Over the years, Mr. Swift has seen the Vineyard change in other ways such as increased traffic and increased building development, but he's learned a few trades along the way. Mr. Swift grew up coming to the Vineyard as a kid to visit his aunt during the summer, later moving here full time as a teenager "during the hey day, the hippie days," as he puts it. "All that good stuff."
"I did one job on Circuit avenue at the old candy shop, Hilliard's. At that time it was turning into Two Fabulous Guys, One Swell Burrito," he said. "I did some remodeling there. And then the fellow across the street was the manager of the Oak Bluffs Inn and asked me to do some work fo him, and then by word of mouth I just worked my way down Circuit avenue."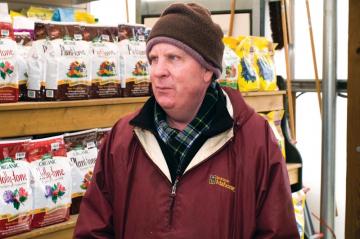 Longtime garden customers may remember Mr. Swift for his long dreadlocks. But today he wears his hair just above his shoulder, tucked behind his ears and under a Carhartt hat.
"Those dreads were pretty dang long. I had them for 19 years," he recalled.
Due to health issues, Mr. Swift began taking a medicine with side effects that caused hair loss.
"I wake up one morning and one of my dreads decided to stay in bed," he said. "And that wasn't good, so I cut them off in 2009."
"It was really hard for me," he continued. "I hung them out in the trees and the birds picked at them to use as material for their nests. A lot of people still come in here looking for the dreads."
Mr. Swift is beginning to cut back on his hours and "let the young kids do it," he smiled. But you'll be sure to find him in the greenhouse or out amongst the shrubs dishing out advice.
"You need a good fall and spring fertilizer," he said. "It's essential if you want a healthy plant. And over fertilizing is a problem, too. Of course, water. You've got to water . . . especially with a new lawn."
Mother's Day is the busiest time of year for Jardin Mahoney, Mr. Swift said, followed by the spring kick off of Memorial Day. In the meantime he's still waiting for his forsythia to bloom for a true sign of spring.
"That or when the Red Sox are back in Boston," he added. "Same thing."