A Boston man charged with rape was found not guilty on all counts Tuesday morning in Dukes County Superior Court.
Bryant K. Brown, 33, was found not guilty of two counts of rape, three counts of assault to rape, one count of indecent assault and battery on a person 14 or older, and one count of threat to commit a crime by the Honorable Gary A. Nickerson after a bench trial.
Mr. Brown and his girlfriend, Latoya Gatlin, came to the Vineyard over Memorial Day weekend in 2012, staying in a cabin at the Menemsha Inn. An Island woman had said that after meeting the two at a bar in Oak Bluffs, she was taken back to their cabin, where Mr. Brown assaulted her after Ms. Gatlin went to sleep.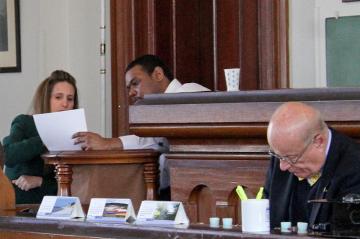 The alleged victim took the stand last week, where she said she didn't realize how far the Menemsha Inn was and said that Mr. Brown tried to assault her after Ms. Gatlin went to sleep. She said that Mr. Brown punched her and
kicked her out of the cottage , and said that she could not call police because she did not have cell phone reception.
Mr. Brown took the stand Tuesday morning, and presented a different version of events. He said that the alleged victim came back to Menemsha willingly, and that she went to sleep on the couch while Ms. Gatlin and Mr. Brown were asleep upstairs. Mr. Brown said he woke to find the alleged victim looking through Ms. Gatlin's purse, and she had a $2,200 diamond chain and cross belonging to Mr. Brown in her pocket. After that, he said, he kicked her out.
Mr. Brown said the alleged victim brought cocaine to the cottage, an allegation she denied.
"Judge, it's clear that [the victim] wasn't raped," defense attorney Anthony R. Ellison said in his closing argument. "It's clear that Mr. Brown didn't touch her in any inappropriate way." He said the alleged victim had "issues with the truth" and that physical evidence did not back up her story.
"All we're left with is he said/she said," Mr. Ellison said. "He should get the benefit of the doubt."
Cape and Islands assistant district attorney Laura Marshard said in her closing argument that testimony from the alleged victim, who was in the courtroom, was consistent "despite rigorous cross-examination by defense counsel."
She said that a trained expert saw bruising on the alleged victim's throat consistent with what she had described as Mr. Brown's hands around her throat, and said the evidence suggested that Mr. Brown tried to assault her, asking the court "to hold Mr. Brown accountable for his behavior that morning in Menemsha."
After Judge Nickerson looked at exhibits for about five minutes, he rendered his verdict from bench. He said the police investigation showed "what I believe are significant inconsistencies in the various statements of the complainant," he said.
The "grave inconsistencies that developed over time" led the court to a not guilty finding, he said.
Mr. Brown, who has been held at the Dukes County House of correction since he was arrested, was ordered released. A tearful Mr. Brown exchanged a long hug with his attorney, Mr. Ellison. "Free at last," Mr. Ellison said as he exited the courthouse.
"I think it was the right verdict. It was the clear the judge had paid attention to every witness, had seen every exhibit and rendered the right verdict," Mr. Ellison said outside the courthouse.
He said he was frustrated that the prosecution continued despite inconsistencies, "especially in light of that DNA evidence. I just thought they should drop the case at that point."
He wished the alleged victim "the best of luck."
"I'm glad my client can move on with his life," he said, adding that "he's lost everything."
Ms. Gatlin and Mr. Brown's mother and uncle were in the courtroom.
"Thank you to Judge Nickerson," Mr. Brown said, also thanking his lawyer and his family. He and his family said they were headed immediately back to Boston.