The Animal Shelter of Martha's Vineyard is happy to feature a very special cat this week. Her name is Rosie and she is a beautiful black and white tuxedo cat. Rosie needs a home badly. She was the companion of an elderly lady who loved her dearly. She is an indoor cat and needs to be an only cat. She is quite shy but craves attention and purrs beautifully when given any attention. The shelter is confident that Rosie will blossom when she is adopted into a loving home.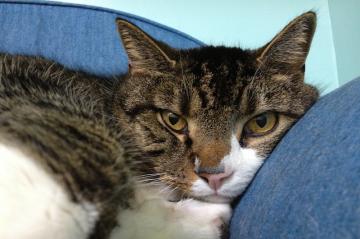 The other two cats who are ready to find homes are Hazel, a big, handsome Calico, who is elegant, friendly and sweet; and Simon, a handsome tabby with white paws and white markings on his face. Any of these sweet cats will make a great lap cat. Please stop by during shelter hours to see them.
Shelter hours are Tuesdays and Wednesdays 8:30 a.m. to 2:30 p.m., Thursdays and Fridays 8:30 a.m. to 6:30 p.m. and Saturdays 8:30 a.m. to 4:30 p.m. The shelter is closed Sunday and Monday. The telephone number is 508-627-8662.
Contributions are always gratefully accepted; the shelter is funded solely by donations. Please make checks out to The Animal Shelter of Martha's Vineyard; the mailing address is P.O. Box 1829, Edgartown MA 02539.