The Bishop Feehan runners had no chance. Regional high school junior Jeremy Alley-Tarter opened his stride as soon as he left the starting line in the 800-metre run during last Wednesday's home meet. He quickly pulled farther and farther away from the competition and crossed the finish line in 1:57:00, a full 10 seconds ahead of the second-place runner. He'd broken his own school record in the event.
Four days after Alley-Tarter's win, senior Shavanae Anderson, who is competing in her first-ever track and field season, broke the school record in the triple jump. Anderson leapt 33' 10.25" in the annual Twilight Meet in New Bedford, surpassing Leah Bassett's 1992 record.
Two track records falling in the course of a week is a huge accomplishment, but in fact times have been beaten and jumps surpassed for decades. It's a basic feature of a sport in which personal quests dovetail neatly with team accomplishments.
"Track and running, it's all about setting goals and achieving goals," head coach Joe Schroeder said on Thursday. There are team goals to win the league, personal goals to compete at the state meet, and more long-term goals to break a school record.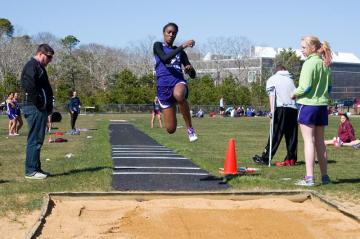 Since he first began coaching track at the high school in 1989, Mr. Schroeder has been working to compile the history of these goals in one place, ideally on a record board that could be displayed in the school. But to get to that point, he needs to find all of the records.
Mr. Schroeder estimates that he has more than 80 per cent of the events covered, having drawn from the scorebooks of former coaches. Still, creating a complete documentation hasn't been without its challenges.
For starters, although there was a team, there was no actual track at the high school until 1995.
"Team Has A Fine Record, Lousy Track," a May 1994 Gazette headline read. "Vineyard Players Have Dreams of Fields."
"There was a line painted around the football field," Mr. Schroeder recalled. "Sometimes it was an oval, sometimes it was a circle . . . it depended on how the guy in charge of the painting felt." Lanes were painted around that oval, but Mr. Schroeder spray-painted in the hurdle marks himself, carefully measuring out distances only to have the paint mowed over the next day.
Distances couldn't be measured accurately on the turf track, so Vineyard runners couldn't set state meet qualifying times on their own home field. Throws were "pretty much accurate," Mr. Schroeder said, but measuring jumps proved difficult.
To compile records from that time period, Mr. Schroeder relies on the old scorebooks and any information he can find from away meets. The lack of consistent notation affected the permanent record as well.
Complicating matters further, the distances runners competed in have changed over time. The current 400 metre hurdles race was a 300 metre race, the mile run was a 1,500 metre run, and so on.
"The mile and two mile for both boys and girls — those are records I cannot verify, really," Mr. Schroeder said, referring to the change from 1,500 and 3,000 metres. "Those two are kind of up in the air."
Shot put, too, has been tricky.
"When I first started coaching, there were some terrific throwers," he said. Still, via word of mouth, Mr. Schroeder kept hearing of distances better than what he had noted. They just couldn't be verified.
"It's so many different distances and times that it was really hard to filter through what was legit and what was not," he said.
Record-keeping (and the records themselves) improved with the arrival of an actual track. Track team captain Daniel Borer started a petition in 1994 to get funding for a new track included in the high school's newest expansion project, gathering over 1,000 signatures. Petitions were nothing new to the team. In 1987 a petition helped save the team from going defunct after the sport was dropped from the Cape and Islands League. The campaign for the track succeeded. It was laid in 1995 but the team had to wait another season to use their new facility, as it had no lines.
The first season of the new track, the boys won the Mayflower League championships. They would win the league three years in a row and then, after a short break at the top, win nine more straight championships by the time they moved to the Eastern Athletic Conference in 2010. The girls, too, dominated the Mayflower League, with four straight titles in a row.
"Since I've been keeping statistics and records, pretty much all the records that I knew about have been broken," Mr. Schroeder said.
Records were computerized in the late 1990s, making Mr. Schroeder's own quest that much easier, but the hunt for older standings continues.
"It's kind of fun, but also time consuming," he said.
In the meantime, expect the times to keep falling. The track was resurfaced this year for only the second time since its inaugural season.
"A very large Band-Aid," Mr. Schroeder said.
It's the perfect setting for a few more successful quests. Just ask Jeremy Alley-Tarter and Shavanae Anderson.
If you know of a regional high school track and field record, and can provide documentation such as a meet results sheet or a newspaper article, please contact Joe Schroeder at jschroeder@mvyps.org.