Ah spring! In addition to green grass and blossoming trees it also brings us pets caught in the Vineyard Shuffle of limited rentals. Forced to move to make room for summer visitors, tenants are often faced with having to relinquish their pets due to the no-pet policies of landlords. If in need, the Animal Shelter of Martha's Vineyard stands ready to find new homes for your furry friends. At the moment we have a new mother tabby cat who delivered her five kittens under a house in Edgartown. Mama cat looks sleek and well-fed. She must have been someone's pet. If anyone is missing a beautiful, obviously unspayed striped cat with pale green eyes, please call the shelter.
Some unexpected and very cute visitors arrived from Aquinnah, two orange kittens, one male, one female rescued from the side of the road. They are about five weeks old and need spaying, neutering and all their shots before they can be released. Please do not discard any living creature in an unsafe location. The animal shelter exists to house and find homes for all the pets here on the Vineyard.
Another new arrival is Odie, a young male boxer/lab cross. He is very sweet and gentle. The shelter will neuter him and get him up to date on his shots. He will then be ready to be a loving companion for a lucky person. Come see him.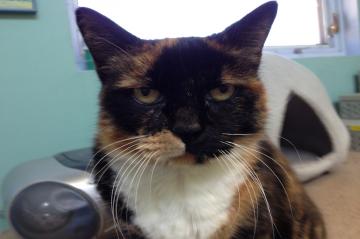 The cats still awaiting adoption are the girls, Rosie, Hazel, Hero, and Lotus. Also the two boys, Michael and Simon. All are spayed or neutered. Miss Moppet, a.k.a. Fluffykins, is our clown kitten who keeps us laughing. She will be spayed next week and then will be ready to amuse her new owners.
A reminder to all visitors here for Mother's Day that the Pink and Green Weekend takes place on Main street in Edgartown this Saturday. If you bring your dog dressed in those colors you can enter him or her in the dog show at the park on Main street. It is also an opportunity to memorialize your past pets by buying a brick for the shelter walkway or just to make a donation to a good cause.
Shelter hours are Tuesdays and Wednesdays 8:30 a.m. to 2:30 p.m., Thursdays and Fridays 8:30 a.m. to 6:30 p.m. and Saturdays 8:30 a.m. to 4:30 p.m. The shelter is closed Sunday and Monday. The telephone number is 508-627-8662.
Contributions are always gratefully accepted; the shelter is funded solely by donations. Please make checks out to The Animal Shelter of Martha's Vineyard; the mailing address is P.O. Box 1829, Edgartown MA 02539.