The Edgartown police department was hard at work early Friday morning — in the kitchen.
They had to cook for a crowd, after all. By noon, 80 senior citizens came to the fire station to dine on food prepared by the police department, "our way to say thank you to the seniors, and to let them get to know us a little bit better," Officer William Bishop said.
Officer Michael Gazaille made the lobster rolls and the strawberry shortcake, while Sgt. Jonathan Searle went quahaugging and made chowder. Officer Bishop made stuffed quahaugs.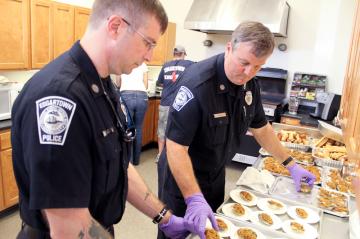 The wait staff consisted of Edgartown sixth graders Tyler Edwards (son of Sgt. Craig Edwards), Emma Searle (Sergeant Searle's daughter), Camden Emery, an Edgartown fifth grader, and Amelia Craig (Officer James Craig's daughter).
There were flowers and bowls of oyster crackers on the tables, and diners in an overflow seating area munched next to fire trucks. Officer Dayce Moore refilled cups with iced tea and water, while staff members worked away in the kitchen.
The food got rave reviews.
"You can tell it's made with love," Brenda Lehman said. "We appreciate it."
Alex Newton had high praise for Officer Bishop's stuffed quahaugs. "Really excellent, very good," he said. "I'm going to tell the chief to keep him."
"They do great service for us," Elaine Newton said of the officers.
The chowder wasn't the only draw.
Some came to see their favorite officers. Edgartown resident Ellen Rostov said she came to see Officer Bishop, who has been volunteering at the Edgartown Council on Aging. Claudia Rogers said Det. Sgt. Christopher Dolby was her guy when he helped her out after a break-in. "He was very helpful."
Paramedic Chuck Cummens said the meal was a good time for reminders: if you think you need an ambulance, he said, you probably do. "We're here to let these folks know that we're here for them," he said.
Before lunch, members of the department introduced themselves, each getting a round of applause.
Sergeant Searle thanked the crowd for their support. "We receive so much community support and this is our thank you in return."
The lunch began with some stand-up comedy from Edgartown IT director Adam Darack. "I walked in expecting a huge table of coffee and doughnuts," he said.