It was only fitting that the televisions in the back room of The Wharf in Edgartown were showing the latest French Open matches on Saturday afternoon as Vineyard tennis players past and present gathered to celebrate a coach who has become an Island tennis institution.
After 23 years, several one-loss seasons, one undefeated run and one state championship title, head coach Ned Fennessy, 80, is retiring.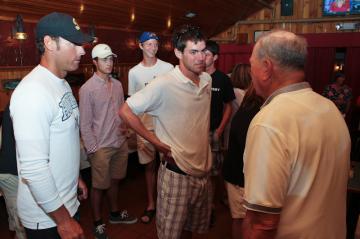 A poster board inscribed with signatures from athletes and parents alike rested on a table at the front of the room: "Thank you Coach Ned for all of your expertise and dedication . . . for your away-match cookies . . . and for all that you give";"Thanks boss"; "Congrats to a great coach!"
Saturday's event was organized by tennis assistant coach Paul Pertile, who has worked with the team for two years. The Wharf was filled with current players, fellow spring sports coaches, parents and athletes from all eras of Coach Fennessy's tenure — including some who had dug out their old tennis polos for the occasion.
Coach Fennessy thanked Will Coogan, owner of The Wharf and captain of the 1992 regional high school tennis team, for hosting the party, drawing laughs from the crowd as he recounted the young Mr. Coogan's propensity for racket-throwing. During one particularly challenging match, Mr. Coogan had been mid-throw when he looked over and saw the reproachful eye of his coach. "And the arm came down," Coach Fennessy said, demonstrating.
Practicing sportsmanship at all times was a major guiding principle for Coach Fennessy, who was not shy about pulling a player from a match if he felt someone was out of bounds. But at the same time, he said, "I never yell and scream at my players. It's just not my nature."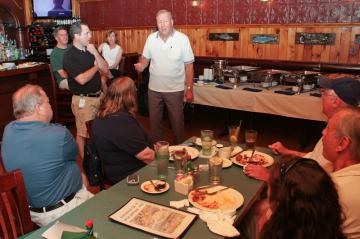 "I want the boys to win," Coach Fennessy said, "But I don't require that they win. As long as they give 100 per cent effort, that's all I ask for."
He also holds his players to high scholastic standards. "Academics comes before tennis," he said.
Coach Fennessy was the only applicant for the job of head coach in the spring of 1991. He intended to stay on just four years.
"Some things fall in your lap once in a while," he said. Watching the players' deepening maturity and their improvement on the courts over time was a joy, he said. "I really couldn't walk away after four years."
His tenure as coach, "father, grandfather and babysitter" featured countless standout moments, including ferry fiascos, swapped shoes and forgetful players. Last year's undefeated season and run to the state championship title would have been a storybook ending for any coaching career. But that starting lineup featured six juniors and one sophomore, and he knew he would be back for the players' final year.
"I think [this year's team] is poised to do it again, that's certainly our objective," he said. The Division 3 Vineyarders are 16-1 on the season, with their only loss coming at the hands of Division 1 Barnstable. They begin play in the postseason tournament on Tuesday.
Coach Fennessy looked around the room and thanked the group once again.
"I'm somewhat overwhelmed," he said.
The crowd stood and cheered.