Sometimes 130 miles per hour isn't all that fast. Ask Chris (Fibber) Magee, 49, of Vineyard Haven. When Mr. Magee is at the wheel of his custom-built Dodge Charger, after the green flag has flown and he's centrifuging around the curves at Seekonk Speedway, when he's jostling for position among the other cars on the track, speed is just a number.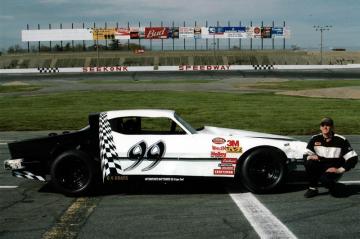 "Once you're out there, and everybody's going that fast, it doesn't seem that fast [anymore]," he said. "I love it. Before you go out to a race, you're sitting in your car . . . you're a little nervous, thinking, what am I doing here?"
For Mr. Magee and a handful of other race car drivers from Martha's Vineyard, that question becomes a bit more profound. The Vineyard, with its sleepy dirt roads and speed limits topping out at 45 miles per hour, doesn't seem like the ideal community to nurture the spirit of speed. Yet that spirit persists, and it crosses generations. It always has.
Dick Pratt, 76, of Edgartown, has been partnering with Mr. Magee for 18 years on the race track, although he himself gave up the driving element years ago and is now a crew member. He grew up watching grainy black-and-white footage of stock cars, and first crawled under the fence of Norwood Arena to watch the races there when he was a boy. "An American story, I guess," he said. Cars were in Mr. Pratt's blood. His grandfather, Brad Edmands, was a successful businessman who also worked on some of the very first Mercedes race cars that made their way to the States in the early 1900s. His great-uncle was the mechanic on the Ross steam-powered car that set a world speed record in 1904. By the time Mr. Pratt was 16, he'd already built a car with his grandfather.
"We built a 1924 Model T Ford," Mr. Pratt recalled. "And then we built a 1911 Cadillac . . . I mean, I'm talking from the ground up, every flat washer."
After World War II, racing culture surged across the United States as the automobile became more of a presence in daily life.
"Young people, mostly men got involved fooling with cars in their spare time," Mr. Pratt said. "So that started a whole — let's call it almost an epidemic, nationally, of hot rods." The South, home to Talladega, Daytona, and the North Carolina tracks made famous by Tom Wolfe's prose, tends to take credit for the growth of the sport, but that "wasn't necessarily true," Mr. Pratt said. "It was taking place all over the country."
Albert Clements 4th, 34, of Oak Bluffs, also grew up watching races on TV, following NASCAR hero Jeff Gordon through his decorated career, still ongoing. Another racing hero lived closer to home — his father, Albert 3rd, a welder, raced stock cars for 20 years on the New England speedways. For a time, the two Alberts competed side by side on the speedway in dueling Camaros: Big Al and Little Al.
Mr. Clements drove go-carts in New Hampshire when he was a teen to prepare for the big time. Drivers under 18 weren't allowed to compete on the main speedways.
"It was something I'd wanted to do for a long time — it's my passion," he said. "Getting out there, it was exciting; I'd looked forward to it for so long." The circuit he'd waited to join would return the love. Mr. Clements twice was named the most popular driver in a fan vote, in 2003 and 2006.
He raced every single weekend of the season — spring to fall, from 1999 to 2006, when he began building his own house. "It set things back a bit," he said. He picked up a handful of first-place finishes in that time, at one point taking back-to-back championships at Seekonk Speedway, meaning he had accumulated the most points over the course of a season. But the race that stands out the most was a 2003 sixth place finish at Thompson Speedway. Little Al had rallied from being stuck in the trenches of 42nd place, earning a standing ovation from the fans.
His 1979 Camaro has been tinkered with considerably; it was often the oldest in its division and Mr. Clements relished the process of working to make it race-worthy. At 2,900 pounds, it has had a lot of metal already removed, but Mr. Clements said that this year it will "go on a diet" to become even lighter.
Street stock cars are vehicles whose first life was on roads and highways, speaking to the blue-collar roots of the sport. The cars weren't built particularly with the race track in mind, as Mr. Magee's Dodge Charger was. But the car that kickstarted Mr. Magee and Mr. Pratt's racing tenure was a used Camaro they'd tweaked to make safe for the track.
"It was a bit of a tank," Mr. Pratt said.
"The three of us [former partner Eddie Clermont has since moved off-Island] decided we were going to build a street stock car," Mr. Magee said. "We got the rules, and we really had no idea how to make this car go." So they contacted another Island racer: Big Al.
"We went over to his house and saw his car," Mr. Magee continued. "And had a little bit of fear because it was so beat up. It had some battle wounds on it."
"We were so far from being competitive," he said of that first Camaro.
"We really didn't know what we were doing, we were just having fun," Mr. Pratt said.
But over the years, as the partners moved from street stock to pro stock, as they competed at tracks across New England, they began to figure things out. Mr. Magee has won at least one race in every division on every track he's raced on; he took a fifth place finish in last year's season-ending race at Thompson Speedway over Columbus Day weekend. The speedways are more than competitive; as Mr. Pratt notes, many of the current drivers in the NASCAR Chase Series come from the local tracks.
"We've done reasonably well over the years," Mr. Pratt said. "You win when you put the car back in the trailer in one piece . . . it's a heavy contact sport."
"I guess the only way I can describe it is like rush hour traffic in Boston, but at 80 to 90 miles per hour," Mr. Clements said. And sustaining those speeds over a period of up to 40 minutes while maneuvering for prime position is taxing, a hopped-up chess game with higher stakes. The cars are built to be touchy and to respond to the tiniest of movements, making every driver both physicist and pharmacist.
"You're trying to process how the car is feeling, plus what everyone else is doing . . . you're mentally worn out," Mr. Magee said.
When the race is over, the car has to go back in the trailer hooked up to the pickup, back across the highways, back on the ferry, and back to Martha's Vineyard. The process is tedious, and as the drivers admit, often discouraging. It's a lot of effort and expense for 40 minutes of race time. Nobody's in it for the money; a first-place finish in street stock typically pays $150, barely enough to cover the cost of ferry passage. Pro stock pays out higher premiums. And besides transportation costs, there is safety gear to factor in: gloves, boots, helmet, neck brace, fire suit.
"It's expensive to the point where you almost can't do it without assistance from [your] sponsors," Mr. Pratt said. "They have faith that, number one, you'll spend their money wisely and number two, that you'll represent them well."
Finding sponsors is tricky. The drivers are competing off-Island, but their sponsors are all Vineyard-based, making advertising a bit of a challenge. Mr. Pratt and Mr. McGee's own businesses, Island Group Real Estate and Bay State Towing, respectively, support the drivers, as do Island Water Source and Al's Package Store, whose logo appears on the hood of the Dodge.
"They've made it possible that we could continue," Mr. Magee said of Al's.
Mr. Clements is sponsored by Cottage City Outdoor Power, A.R.C. Welding Repairs, Clermont Excavation, and Oak Bluffs Power.
A support crew goes beyond financial sponsorship, though.
"I've met so many good people," Mr. Clements said. "People that have become so close, like family — they opened their homes, their garages."
"People knew it was different being from here," Mr. Magee said.
In Mr. Pratt and Mr. Magee's busiest season, they traveled to 17 races off-Island. Mr. Clements once scheduled as many as 25, no mean feat considering the demands of full-time work on the Vineyard. Still, the sacrifice is worth it just to be on the track.
"I used to watch [on TV] all the time," Mr. Magee said. "But I'm not really a good watcher. I want to be out there."
"The plan for the future is to try to run more races [this] year," said Mr. Pratt. "We're always looking for more people to come and help us."
Mr. Clements saw a bit of the future last November during the Truckin' MV fundraiser, which benefitted the Vineyard Montessori School and featured cars and trucks from around the Island, giving youngsters a hands-on look at everything from fire trucks to police cruisers. He brought the Camaro out of the garage so a new generation could sit behind the wheel.
The car was a hit. "I must have lifted 40, 50 kids in," Mr. Clements said, laughing.
And the Vineyard spirit of speed keeps going.