I was asked to go to Chilmark to interview Jane Slater at her antique shop in Menemsha about an upcoming art show and sale of original ink washes by Adolph Dehn, a Chilmark summer visitor during the 1930s and a regionalist painter. Recently a large body of his work became available to include his Chilmark period, and will be shown for sale at her shop from July 12 to July 14.
Not knowing Jane other than through her Chilmark column in the Gazette, I entered the shop and hung back awhile to see if I could pick her out from among the ladies milling around. My only clue was that I had been told that she's "a real Yankee." It did not take long for me to figure that out. From a corner of the shop a woman inquired, "Do you take Discover?" The reply: "You can pay me with anything but small children, don't want any of them and if you need help with a price I'll be glad to help you." Another lady asked: "Do you mean other than the marked price?" The reply: "That's right, everybody wants a discount and I'm telling you right now you're gonna get one." I had my Jane Slater. I introduced myself and sat for a wonderful Chilmark and art history lesson, complete with anecdotes.
I told her I needed her bio. "Okay, thousand-year-old lady sitting on the side of the road in Menemsha."
Not good enough, I countered. "I've been selling art and antiques in this shop for 38 years and we live behind the shop. I hold several town positions of which I am very proud. They are library trustee, chairman of the Chilmark historical committee, parks and recreation committee and Community Preservation Committee. I was born and raised in Chilmark. Went to Queens College in New York, worked in Manhattan, worked in Boston in the human resources departments of companies like Northeast Airlines and Electronic Design on and off in Chilmark for 50 years, married a man who came in here swordfishing, two kids. Other than that, Mrs. Lincoln, how did you like the play?"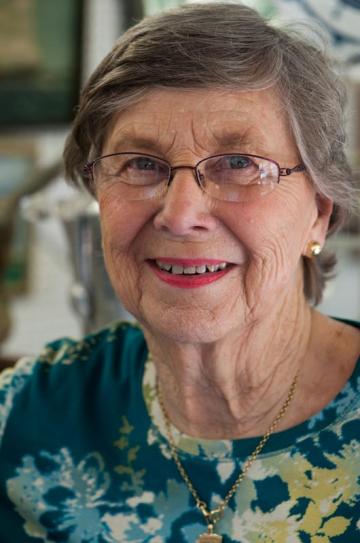 End of bio. Does her shop have a name? "Yes it does, right over there under all that stuff, Oversouth. I had a sign painter in Vineyard Haven paint it but he misspelled it. Over South — it's supposed to be two words — but I didn't change it because I thought it might be bad luck. Over South is the part of Chilmark that I came from. There was Over South and the Creek. He misspelled it because he was drunk but I can't remember his name and anyway I don't want to hang him. I always knew who Adolph Dehn was; his lithographs have been coming through the shop every once in a while for years."
Adolph Dehn was a contemporary and friend of Thomas Hart Benton who lived in Chilmark for many years and is a familiar name in any art circle. From 1932 through 1935 Dehn spent summers painting in Chilmark and around the cliffs of Aquinnah. His washes of the cliffs show a very different scene compared to what one sees now after all the erosion in past years, and should be of interest to all who have cherished that wonder over time. These art pieces are unique, not only as a product of a prolific world-class artist but also in their ability to take us back to a simpler time in the history of the Island, a hard thing to imagine sometimes. Jane likes to tell the story of the painted blocks of wood that Dehn would sign and send to the ladies who ran the various Chilmark rooming houses he stayed in, as Christmas presents every year. Several had come into her possession over the years and sold in her shop along with his lithographs, which she prizes and has sought out. A few years ago a big burly man walked into the shop and noticed the Dehn lithographs on the wall which sparked a little bit of an intellectual stare-down which she describes in this way: "Well, what do you know? No, what do you know? No, I asked first. What do you know?"
The big burly guy turned out to be Andy Loe, the last heir and executor of the Dehn estate. He had come to Chilmark out of curiosity, having all of these original ink washes of a place he knew nothing about. From there a friendship was struck and the idea of an art show and sale was born. During the planning sessions Jane asked if she could get some of the small paintings on wood blocks like the ones that the artist sent to ladies who ran the rooming houses he stayed in. Mr. Loe had no knowledge of the existence of these blocks, much to her pleasure for knowing one more little piece of the story. Jane promised him that she would track down a couple of them to be catalogued by the estate and included in the biography being written by Henry Adams, who is also the biographer of Thomas Hart Benton.
Adolph Dehn was born in Waterville, Minn., and died in New York city in 1968. His entire career helped to define changes in American art such as regionalism, social realism and caricature and he was especially noted for his interpretation of the "everyman" human condition. He attended the Minnesota School of Art and later earned a scholarship to the Art Students League of New York. When drafted into the Army at the outbreak of World War I, he refused to serve on grounds of conscience and was imprisoned for two years. After living as an expat in Paris, he returned to New York during the Depression years and spent the summers from 1932 to 1935 in Chilmark. This led to a friendship with Thomas Hart Benton, with whom he had attended the Art Students League of New York. In 1939 Dehn earned a Guggenheim Fellowship and turned to painting watercolors of the rural Midwest and West. In 1961 Adolph Dehn was admitted to the National Academy of Design. His works are held in more than 100 museums, including the Smithsonian.
After a wonderful hour of conversation, my wife and I were treated to a private viewing of 15 original pieces of the finest ink washes we have ever seen, all of them of the Chilmark area of the 1930s. These pieces will not be shown publicly until the day of the show, along with at least an equal number of signed lithographs at the Oversouth antique store and gallery in Menemsha. The washes are large, beautiful opportunities to own something near to our hearts and gone forever. If you haven't made plans for those dates, go to this show. If you have made plans, change them and go to this show and treat yourself to a double dose of the Chilmark we all love. The fine art of Adolph Dehn coupled with the grace and humor of the "finestkind" of a lady, Jane Slater.