At Stannard Farms in West Tisbury, Lisa Fisher is using good bugs to combat the bad ones. Peering into her green beans, she pulled aside heart-shaped leaves. She was looking for a mahogany-colored beetle a little larger than a ladybug, called the bean beetle.
"There's one," she said, squashing the beetle between her fingers. "It's war out there."
Bean beetles have been wreaking havoc on her plants, leaving behind lacy foliage. But they have not won the war. Ms. Fisher sprinkled a parasite over the plants to attack the bean beetle.
She has been using beneficial parasites to eliminate damaging bugs for the past 20 years. As one of two certified organic farms on the Island, Ms. Fisher is under strict guidelines as to which products she can use on her plants. Occasionally she uses Bacillus thuringiensis (B.t.), an approved, organic biological pesticide, but she prefers to let nature work things out.
"If I use some kind of chemical, I'm going to kill the good guys, too," she said. "If you can do it with good bugs I'd rather do that than use chemicals."
Japanese beetles, potato beetles, bean beetles, leaf miners, tomato horn worms and slugs plague Island gardens at this time of year."Weeds, slugs, bugs — they're really having a field day this year," Ms. Fisher said.
She held a glass jar under the light containing the larvae of a bean beetle. Inside, the yellow larva slowly moved around as pediobius, the good parasite, latched on. In a separate container, she watched as diglyphus isaea wasps prayed on a leaf miner that had been eating her swiss chard and sorrel.
The good bugs come in small vials of 20 to 250 insects, depending on the type of insect, and are called mummies. But when they go to work on the bad bugs they come to life.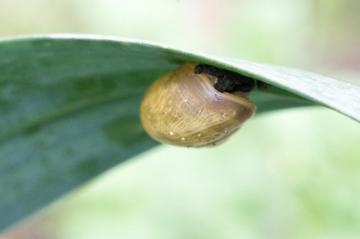 "I think it's working," Ms. Fisher said. "I haven't seen a lot of leaf miners. They riddle the plants."
Nematodes are another pest that eat away at the roots of a plant, but beneficial nematodes can be mixed with water and put directly into the soil to attack soil-dwelling insects that go through their life change underground. The "good" nematodes carry a type of bacteria that kills the bad ones within 48 hours. Harmless to humans, the bacteria also helps eliminate above-ground pests including Japanese beetles, flea beetles and cutworms.
Trichogramma wasps are another beneficial insect. The tiny wasp, which has a wingspan of one-fiftieth of an inch, acts as a parasite on caterpillars such as tomato horn worms. Ms. Fisher also uses the wasps in her apple trees.
She also has Japanese beetle traps scattered around her property. She recommends placing one on the east, west and south sides of a garden for maximum benefit. Japanese beetles will eat many things: flowers, fruit and leaves, including basil, fruit trees and corn.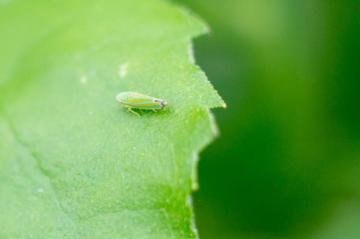 "Bugs will hatch out of the ground and swim upwind toward your garden," Ms. Fisher said.
Once the trap is full, she feeds the beetles to her chickens.
But sometimes the best pest management is done the old-fashioned way.
"If you go out and squash the potato bugs you have to wear blue jeans because you need something to wipe your hands on," Ms. Fisher said.
Companion planting is another effective pest control method, and there are whole books devoted to the subject. Cabbage loves dill, corn and beans are good companions, and pungent-smelling marigolds have long been known to ward off pests such as nematodes.
Chris Wiley at Vineyard Gardens said healthy soil is also important for pest control. "It's like keeping your immune system bolstered and then you never get sick," she said.
•
Booklets are out for the Martha's Vineyard Agricultural Livestock Show and Fair. The booklets are available at the agricultural hall. Entry forms for hall exhibits and animals are due at the hall by August 12. Booklets are also available online this year at mvas.vineyard.net. The cover art and poster were done by Island artist artist Terry Crimmen. The Fair Ladies will be accepting entry forms Monday through Friday from 9 a.m. to noon. The theme this year is Hog Wild for the Fair. The dates for the fair are Thursday, August 15 through Sunday, August 18.
This column is meant to reflect all aspects of agriculture and farm life on the Vineyard. Remy Tumin may be contacted at 508-627-4311, extension 120, or email her at rtumin@mvgazette.com.