Hundreds of people raised their glasses and funds for the Vineyard Playhouse at a gala at Blue Heron Farm, President Obama's former Chilmark vacation home, on Saturday.
The fundraiser was hosted by new Blue Heron Farm property owners Lord Norman and Lady Elena Foster, as well as Playhouse patrons Friederike and Jeremy Biggs.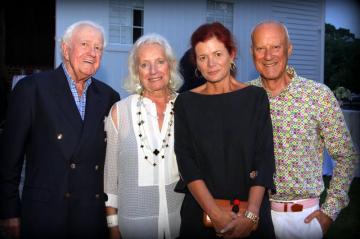 Artistic director MJ Bruder Munafo said the event raised more than $125,000 for the ongoing capital campaign to restore and renovate the historic Vineyard Playhouse building in Vineyard Haven.
The gala comes less than one month after another high-profile Playhouse fundraiser in which actors Ted Danson and Mary Steenburgen took the stage at the Martha's Vineyard Regional High School Performing Arts Center for a reading of A.R. Gurney's Love Letters.
In 2011 the Vineyard Playhouse announced a $5 million capital campaign for the restoration of the building, as well as housing for actors somewhere in Vineyard Haven, and the acquisition of a scene shop/rehearsal hall somewhere on the Island.
With the latest fundraiser, Ms. Munafo said the Playhouse is approaching its goal for finishing the restoration and renovation portion of the project. "We've almost got all of the money we need for the renovation," she said. "Our goal is to be completed in spring and fully reopened next summer."