The farm stand at Whippoorwill Farm is now open for business on Old County Road in West Tisbury.
It's been nearly 15 years since farm owner Andrew Woodruff could say that. Between a booming CSA membership, a move to Thimble Farm in Oak Bluffs, and a move back again to Old County Road, the farm stand has been empty.
"It's nice to see this farm get active again," Mr. Woodruff said this week, his John Deere hat shading his face from the August sun.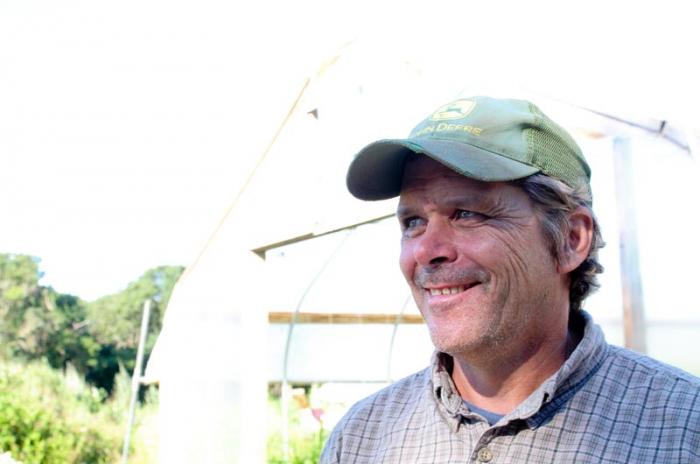 "A lot of reflections have been coming back and memories of the past," he said, laughing, then added that the memories were mostly good ones. "Selling direct to the public is a nice thing and I've always enjoyed it."
It's been a transition year for Mr. Woodruff, who for eight years operated his community-supported agriculture (CSA) program from Thimble Farm in
Oak Bluffs and leased the property on a year-to-year basis. He completed his move back to the eight acres off Old County Road this past spring where the CSA began 20 years ago.
"It's been a year with a lot of challenges," Mr. Woodruff said. "I'm blessed to have an amazing crew of motivated young farmers who are working really hard and taking a lot of initiative on their own to help the farm."
In April, the Martha's Vineyard Land Bank bought an agricultural preservation restriction on four and a half acres of Mr. Woodruff's eight-acre farm. Mr. Woodruff agreed to take down greenhouses and moved buildings to create a sweeping view of cropland as part of the deal. He said the fall to-do list is ongoing.
"There's a lot of work to be done here in the next six months and we've made a lot of progress this spring in terms of transition, but we had to stop and get back to farming for a while." He still has several greenhouses to move, some cleanup to do and plans to put up new deer fencing around the property.
The stand was defunct for many years and now runs on an honor system. Mr. Woodruff plans to build a new stand for next season with a full-time attendant.
From the 40 acres at Thimble Farm to the eight-acres of land on Old County Road, the downsizing has proven successful thus far, Mr. Woodruff said. Pick-your-own flowers, a treasured tradition at Thimble, is back beginning this week for CSA members, including sunflowers, zin
nias, cosmos and more. Mr. Woodruff said he hopes to have the flower patch open to the public in the future.
This year's CSA option includes farm-raised chicken, overseen by assistant farm manager Gideon Spykman. He's raising 800 meat birds for CSA members, retail at the farm stand and wholesale to restaurants.
"It's something that's beneficial for here, now and in the long run," Mr. Woodruff said, noting the increased diversity and fertilization in the soil. He raises the birds in a brooder on the farm for three weeks before moving them to pasture at a nearby field. The chickens are housed in chicken tractors and rotated around the field. Fresh chickens are available at the stand Monday through Wednesday. Mr. Spykman freezes them Wednesday night and they are available frozen for the remainder of the week.
With the move came a late start for growing, but Mr. Woodruff said it's been a good growing season so far. Squash is "coming out of our ears," watermelon is doing well and the tomatoes are looking "really nice."
The famous tomatoes were some of the earliest to arrive on Island this summer, and Mr. Woodruff said customers always ask: are they greenhouse or field tomatoes?
"They're field varieties that are grown in greenhouses," he said. "The flavor is maybe not as good as field tomatoes but it's pretty darn close."
Mr. Woodruff experimented with greenhouse varieties but felt the "flavor wasn't up to our standards. We got away from those and went back to the field," he said.
This season Mr. Woodruff is growing 700 to 900 pounds of field tomato varieties in two full greenhouses, and an acre of field tomatoes outside.
In an interview with the Gazette last week, food activist Michael Pollan mused that Vineyard tomatoes are especially tasty due to the salt air. Mr. Woodruff wasn't surprised.
"I've spent most of my life on Martha's Vineyard in August, so the only tomato I know is a Vineyard tomato. If it's the salt air, so be it," he said.
There's also a full greenhouse of cherry tomatoes, a staff favorite. Before heading out for the day, the farm crew was picking greenhouse and cherry tomatoes for the stand. Mr. Woodruff said the success of the farm this year is all thanks to the staff.
"All things considered, we're doing really well," he said. "These guys are absolutely amazing, absolutely amazing."
A Fair Reminder
A reminder to all potential Martha's Vineyard Agricultural Fair participants: entry forms are due at the agricultural hall by 5 p.m. on Monday. Entry forms are available at the hall or online at mvas.vineyard.net. All nonperishable entries must be brought to the hall on Wednesday between noon and 5 p.m. All junior entries, both perishable and non-perishable, must be brought to the hall on Wednesday as well. Adult perishables are due by Thursday morning at 8:15. Animals and poultry should be brought between 7 a.m. and 9 a.m. on the day they are being judged.
This column is meant to reflect all aspects of agriculture and farm life on the Vineyard. Remy Tumin may be contacted at 508-627-4311, extension 120, or email her at rtumin@mvgazette.com.