Nothing so gentle as real strength, nothing so strong as true gentleness.
"That's what we say about draft horses," Bruce Marshard said, standing next to one of his Percheron horses, Sonny. His pasture mate and fellow Percheron Max was grazing nearby.
Standing at over six feet tall, these draft horses are perhaps the largest on the Island. This weekend, they'll compete in the draft horse competitions at the Martha's Vineyard Agricultural Society Livestock Show and Fair.
The fair begins Thursday at 10 a.m. The exhibit hall opens in the afternoon after all of the judging has been completed, usually around noon. The draft horse halter class show is on Friday at 11 a.m. and the pulling contest is at 1 p.m. The Island draft horse show, which is expected to draw more than 40 horses, is on Sunday at 10:30 a.m. and includes bareback, lead line (riding for young children), junior class, cart classes, obstacle courses and team wagon.
Mr. Marshard's Percherons are one of three draft horse teams on the Island. Sonny and Max have competed in the fair every year for the past 10 years. Sonny is a black Percheron standing at 19.2 hands and 2,316 pounds. Max is a grey Percheron and stands at 19 hands and 2,430 pounds. Both are 24 years old, older than the typical draft horse, but still in working shape.
Sonny was rescued from a meat packing plant in Saskatchewan. Max is from the northern peninsula in Michigan. The two have been working together for 10 years.
Mr. Marshard was first introduced to draft horses in junior high school in New Hampshire where he studied forestry. Each student was given a half acre of forest to maintain. Horses were used for clearing large trees.
"When the big trees dropped there was a gentleman in town who had heavy horses and that's how I got introduced," Mr. Marshard said. "It took my breath away."
Having the right setup for maintaining the horses is "huge," he added. It took him five to six years to find the perfect fields for his horses to graze and to schedule rotations. Max and Sonny alternate between four fields across the Island between May 1 and December 1. During the winter the horses stay at Mr. Marchard's stables and graze wooded areas nearby.
Mr. Marshard logs with the horses all winter and uses them to plow driveways when there is four inches or more of snow.
"The northern moth has killed hundreds of acres of the red and white oak trees on the Island," he said. "Private landowners have us take them down and pull them out. They don't want skidders or tractors on the property ruining it. After two weeks you wouldn't even know we were there."
Mr. Marshard is usually out logging for four to six hours a day and can clear between eight and 12 trees.
"I'm doing the same things I did in the sixth and seventh grades and now I'm in my 60s," he said, smiling.
The horses pay for themselves through logging, snow plowing, mill work deliveries and Sonny Side Rides — a pull cart for weddings and special events.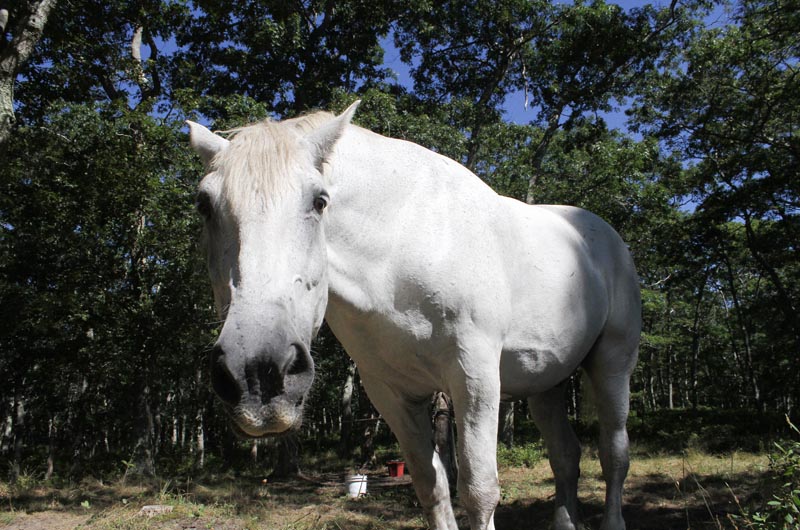 "They maintain themselves financially, which is very unusual in the horse industry," Mr. Marshard said. "They earn the most money in the woods, which is great. I tell people that I'm logging on the Vineyard and they say, yeah sure, Bruce."
The horses also produce 16 tons of manure each, which is traded for chiropractic visits, vitamins and eggs.
Special care is given to the horses, who are fly and tick-sprayed twice a day.
"I've never had a draft horse live beyond 20," Mr. Marshard said, attributing much of their long lives to being on pasture. "They're always outside and never in a stall." Their diet is largely pasture land with some grain supplements.
The horses are also taken for swims at least once every two weeks.
"We swim on their backs now," Mr. Marshard said. "The salt water is excellent for their feet because it kills all the bacteria. As a farrier, [I know] that's important to keep them healthy."
The horses go through two very large pairs of shoes a year but get refitted every 10 weeks. The shoes have to be pulled off and the nails trimmed. The horseshoes are studded on the bottoms, specifically outfitted for the type of work performed.
Taking care of the horses has become a family affair. This weekend at the fair, Mr. Marshard's children Charlotte, 2, and Jack, 8, will drive the horses in their respective junior classes.
"They love it," he said.
Bob and Irene Hungerford will also compete this weekend in the men and ladies cart pull with their four-year-old Clydesdale, Duke. His older brother Jack, a five-year-old Clydesdale, is currently recovering from foot surgery in Sturbridge.
"We get a lot of enjoyment out of them, they're very people-oriented," he said. "They love people at the fair."
Duke weighs between 1,600 and 1,700 pounds and will grow to around 2,000 pounds when he's fully matured, which is around the age of seven.
Like Mr. Marshard, Mr. Hungerford was exposed to large horses as a child. But his interest in drafts grew when he was designing stage sets.
"I had a company that built stage scenery . . . and some of the company's clients were circuses and they had large horses," Mr. Hungerford said. "They call them heavy horses."
"Even growing up as a child I always loved the circus," he continued. "A fellow across the street was farming with horses and had two large Percherons."
On Sunday, Duke competed in his first dressage event at the Martha's Vineyard Horse Council show at Arrowhead Farm in West Tisbury. His stablemate Jackson was undefeated on the Island last year, but is still recuperating from a canker removal on his hoof.
"We had just started working the two of them as a team, getting them ready to put them in a wagon," Mr. Hungerford said. "[Duke] isn't yet muscled up. We hope to use them together as a team on a wagon, and individually to ride them."
And what, pray tell, is it like to ride a draft horse?
"It's like sitting on your sofa and riding your house," he said. "Each horse has its own gait, but both have a smooth ride. It's almost like riding a Cadillac. We say that Duke is our sports version and Jackson is our SUV."
This column is meant to reflect all aspects of agriculture and farm life on the Vineyard. Remy Tumin may be contacted at 508-627-4311, extension 120, or e-mail her at rtumin@mvgazette.com.