Julian Wise sits examining a series of photographs in his new store Island Images located in Oak Bluffs.
"Out of all of them, these four are good enough," he says. "I could use them professionally in the gallery."
The pair of photographers nod as Mr. Wise explains to them what works about their pictures. He encourages the artists to go with their gut, bring in a few more photographs and he will sell the work in the gallery.
Sabine and Simone Geary, aged 15 and 13 respectively, gather their portfolios and head out.
"Wonderful work, girls," Mr. Wise says as they leave. "You're really on the right track."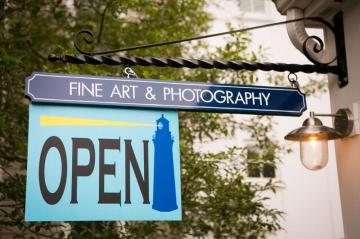 Mr. Wise is not a seasoned gallery professional. If anyone had told him a year ago that he'd be running a gallery, he would not have believed it. But he appreciates quality work and understands the fact that many cannot afford it.
"I know people who say, I don't go into galleries because I'm not a millionaire. I wondered if there was a way to find very high quality art and yet make it accessible to average people."
While helping to promote the book JAWS: Memories from Martha's Vineyard at the West Tisbury Artisan's Fair, Mr. Wise noticed two things ­— that people love the Vineyard and that "they love to take a tangible, visual memento home with them." A reasonable price point didn't hurt, either.
Mr. Wise took a page from his grandfather, Lester Palestine — owner and operator of Arlan's Department Stores — and created a business model based on quality, affordability and customer appreciation.
"I don't believe in cheap art any more than I believe in cheap surgery or cheap carpentry," he said. "Cheap will often mean low-quality."
Instead, he looked for ways to lower costs without losing quality or integrity. He chooses artists based on strict criteria.
"They have to be excellent, they have to be professional — in that they can meet a deadline — and they have to be pleasant to work with."
Some artists, such as Kip Richmond and Niklas Szuhodovsky, he chose after looking through hundreds of portfolios. Others came to him by chance, good timing or connections.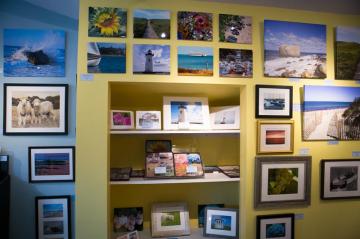 "I won't put a picture up for charity, it has to be good," he said. "But there have been some amazing coincidences and I've found some wonderful work."
Vineyard Images opened on July 10 — quietly. Rather than rush into things or take on too much at once, Mr. Wise focused on the details. An official grand opening celebration took place on Sunday. "My biggest priority in the first year is establishing a positive reputation for the business. I want people to have a positive experience. Whether it's the aesthetics of the gallery or the smoothness of the transactions, customer satisfaction is our number one priority right now."
Mr. Wise is working to build trust with his artists, too.
"This art represents the culmination of a lifetime of diligent work by most of these artists. But people light up when they look at the work they love and then realize they can afford it."
He uses the finest printers and pays his artists commissions that are as favorable as possible. It's about finding a balance, he said.
"I figure I don't help the artists if I go out of business, so I've found a happy medium. Keeping costs low and helping artists succeed, building ongoing positive relationships."
Mr. Wise navigates the "maddening subjectivity" of the art world with a combination of "instinct, good books and good advice." He pays attention to what people want — maps, for example — and what it is they love about the Vineyard. All of the work he sells is Vineyard-centric, and he focuses on prints and photographs. The pieces range in size, aesthetic and medium, from paper to metal to tile.
"I believed it could be done," he said. "I was determined to do it, and I found a way."
Island Images is located at 56 Narragansett avenue, across from Union Chapel in Oak Bluffs. Call at 508-696-7772 or visit islandimagesmv.com for more information.