He has sung Tears of a Clown, Tracks of My Tears, Cruisin' and his other hits thousands and thousands of times — as he did once again Thursday night in Oak Bluffs — but Smokey Robinson insists they're as new and fresh to him as ever.
It's still a party.
"I'm doing something I love; I'm with people. I'm not only singing it; they're singing it," Mr. Robinson said just a few hours before he took the stage at The Tabernacle for the opening of a three-day concert series On the Vine to raise money for kidney research. The event concludes tonight with a performance by Natalie Cole.
"It kills me when somebody comes back stage [after a show] and says, Okay Smokey, where's the party? I just had the party for two hours. That was the party to me," he said.
At 73, Mr. Robinson has no intention of breaking up that party, even in his sixth decade in show business. After his 90-minute Vineyard concert, he was scheduled to hop a plane Friday morning for a concert that same night in Baton Rouge, La., the first of two there, before heading to Michigan and Indiana for more dates next week. Earlier this week, he was in a studio with producer Randy Jackson — of American Idol fame — recording an album of duets, which will be released early next year.
But he doesn't seem the worse for wear. Relaxing in his room at the Harbor View Hotel before his show, Mr. Robinson appeared fit, dressed in blue jeans, a T-shirt and wearing eyeglasses, not much changed from his halcyon days with The Miracles.
In fact, he learned a valuable lesson when he slowed down in 1972, stopped performing and recording, and became a vice president for Motown Records. Within a few years, his friend and Motown founder Berry Gordy sat him down and told him in no uncertain terms to get back in the studio.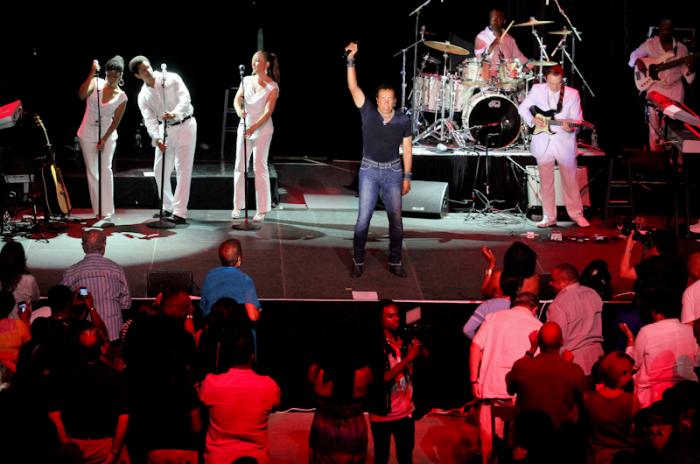 "Man, you're miserable," Mr. Robinson says Mr. Gordy told him. "And when you're miserable, I'm miserable. And I don't want to be miserable.
"He could see inside me, I guess. He could feel me. I thought I was hiding it."
"And I came back," says Mr. Robinson. "And I will never retire again. I will be the George Burns [of singers], because it's my first love, as far as my work goes."
Based on Thursday night's concert, which saw the crowd at times singing so loudly they nearly drowned him out, he continues to get the love as much as he gives it.
His longtime friend Bob Crews, a seasonal Oak Bluffs resident, talks about accompanying Smokey to the Kentucky Derby. They parked the car and had to negotiate about 100 yards of food and vendor tents to get to the entrance of Churchill Downs.
It took them an hour and a half.
"He stopped, took pictures, shook hands, said hello, hugged everybody on the way," said Mr. Crews. "He went behind the counters, hugged the cooks." When they finally made it to the entrance, Mr. Crews asked him what that was about.
"These are the people who buy my records, and these are the people I owe the most to," he replied, according to Mr. Crews. "If I don't have time for them, I don't have time for anybody."
That philosophy has served him well. Mr. Robinson is a member of the Rock & Roll Hall of Fame and Songwriters Hall of Fame. He and The Miracles cut Motown's first million-selling hit (Shop Around) in 1960, and the group didn't look back, recording more than two dozen hits over the next 10 years.
He also penned classic tunes for other Motown artists, including the Temptations (My Girl, Get Ready, for example), Mary Wells (Two Lovers, My Guy), the Marvelettes (Don't Mess With Bill) and Marvin Gaye (I'll Be Doggone, Ain't That Peculiar).
Growing up poor in Detroit's north end, William Robinson Jr. knew from an early age that he'd become an entertainer (or a cowboy). Sometimes when his sisters were supposed to babysit him, they'd dress him up instead and drag him to Detroit's storied Graystone Ballroom, where the best big bands of the day performed.
"I'd go see Count Basie, Duke Ellington, people like that," he says. "I was only five years old. I was indoctrinated by that." By age 11, he was singing on the street corner and by 15 his band, The Five Chimes, was competing with other Detroit groups, including The Four Aims (later to become The Four Tops). "When they showed up," he says, "you know you were going for second place."
Of course the music industry has changed dramatically during the arc of his career. The technology has moved from vinyl records to digital bytes. And the business model has gone "360 degrees," he says, in which recorded music is freely shared (or ripped off, depending on your point of view), and artists must rely more heavily on concerts and other income to make a living.
That happens to play into his wheelhouse. Mr. Robinson loves all the creative aspects of the business — writing, recording, producing and performing. "And my favorite part of that is performing," he says.
But it's not all work, all the time. He has been to the Vineyard before, and intends to return, for some quiet time with friends.
"When I'm at his house," says Mr. Robinson, laughing and pointing to Mr. Crews, "and we get through with golf, the first thing I do is go get into the hammock."
"I love the hammock," he adds, flashing his trademark smile.
Party on, Smokey.