Regional high school students start classes later than usual this year, but the fall athletes are already on the fields preparing for the upcoming season. Mornings and evenings bring a flurry of activity to the quiet school campus as football, field hockey, cross country, soccer and golf shake off the summer haze and get down to business.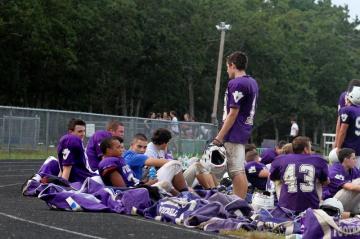 It's a time of tryouts, when varsity and junior varsity teams are created, and a time of camaraderie as teammates work through drills and circuits. It is also exhausting.
Athletic trainer Tania Laslovich starts her day when the teams do, just after dawn, and goes home only after the final evening practice has finished. She's also on hand for all home scrimmages, but her season actually began earlier this summer when student-athletes turned in their medical clearance forms. The high schoolers tend to show up green to practices, she said, so minor injuries are fairly common during preseason.
"It's always 'Be on your toes,'" she said.
The football team is the first to start preseason work, part of a rule mandating that they fit in a minimum number of practices (15) before the team can suit up for a game. The players were out early on August 19 working on fundamentals and "just trying to improve daily," head coach Donald Herman said. They've already scrimmaged several times, and will fit in 19 practices before the first game on Sept. 7. Varsity numbers are up this year from previous seasons, Coach Herman said, but freshmen are still encouraged to come out for the younger squads.
On the girls' soccer pitch, the coaches are also seeing more players. There are 42 athletes, including 13 freshmen, out for preseason. Head coach Richard Bennett said the skill level this year is higher than in other years. Most players were part of the youth soccer league's travel programs so the team can focus more on game strategy in practices.
Other squads are starting with a completely blank slate. This is the first season for the revitalized cheerleading squad, now under the direction of Sue Costello and Shannon Capra. The cheerleaders' voices rang out in the gymnasium on Tuesday evening as the squad of mostly freshmen worked through the cheer book and fine-tuned the basics — elbows forward, shoulders back.
"I think each time they cheer they're going to feel more and more confident," Mrs. Costello said.
Practices and scrimmages continue throughout next week. Boys' soccer is first up for regular season play when they travel to perennial rival Nauset on Wednesday. Field hockey travels to Falmouth on Thursday.