Before the fall football season started Lou Paciello was a bit worried about numbers. Mr. Paciello had joined with several other parents to help re-establish a youth football program on the Island, but he didn't know how many players to expect at practice.
It's barely a month into the new season, but youth football has already exceeded expectations, Mr. Paciello said. At a recent Wednesday practice, third and fourth graders worked in small groups with their coaches. Some wore white jerseys; the program had run out of the purple jerseys ordered before the season.
Pop Warner youth football used to have a presence on the Vineyard, which ultimately folded 10 years ago because the Vineyard could not field enough players for three separate teams, one of the requirements of the league. The Boys' and Girls' Club offered a successful and popular flag football program for elementary school kids, but junior high coach Steve Quinn noticed that the flag league still could not prepare the players for the game they would see once they began off-Island competition.
"There's a flow of the game they have to be able to step into," he said. "That was really the big thing." Sixth-graders would join the junior high squad but have no experience blocking and tackling — skills that cannot be taught in a three-week preseason. The teams they played against, however, had been mastering the skills since third grade, creating not only a competitive imbalance but a safety hazard.
"We really felt there had to be something in tackle football," Mr. Paciello said.
The newest incarnation of youth football is part of the USA Football program. There are now two teams for young football players: third and fourth grade, and fifth and sixth grade. The sixth graders were pulled out of the junior high program because of the size difference between an 11-year-old and a 13-year-old. The players do not travel off-Island, Mr. Paciello said, because of the considerable time investment for families.
USA Football coaches are required to receive online certification and training in concussion awareness. Football is taught differently now than when the parents were players, Mr. Paciello said.
"It's all about keeping them safe, and having fun," said Steve Tully, who works with third and fourth graders. Building fundamentals remains the primary goal. During a Monday practice with third and fourth graders, Scott Lively explained offensive zones to a group of players, showing them how to hold the football when they ran.
"Cradle it," he said. "Don't grab it with your hands, take it to your chest."
Nearby, Mr. Tully worked on tackling fundamentals: take high, wrap up, and avoid head-to-head contact. Young players leapt with gusto onto tackling blocks, giggling as they hit the ground.
Kim Averill, whose son Preston plays with the third and fourth graders, said she was somewhat anti-football before Preston started the program.
"You just worry so much because of concussions," she said. But the emphasis for the younger players "is more about skills and building that team camaraderie."
"I like that it's all about conditioning," Mrs. Averill said.
"It's something to do to get them active," said Tracy Rose, whose son Tristan Gromoshak plays with Preston.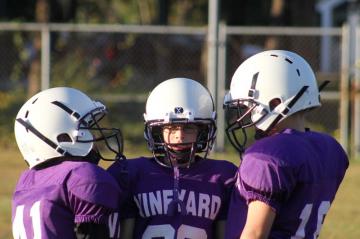 Still, for the players, there's nothing quite like getting a set of football gear.
"It's about getting the pads; they're so excited for the pads," said Phil Regan, whose sons Jeremy and Jared are on the fifth and sixth-grade team. Players must go through five days of conditioning before they get the pads. During a Tuesday practice, newcomers stepped out once scrimmaging began, looking wistfully at their teammates.
"Today's my last day without pads!" one sidelined player announced to coach Chris Porterfield. Mr. Porterfield gave him a high-five. "Yeah, all right!"
On the field, players lined up for a snap.
"Huddle up!" Mr. Paciello said. Center Skylar Hall snapped to Jared Regan, who handed off to Michael Trusty. Michael evaded his defenders and dashed down the field.
"That was actually a pretty good play," Mr. Paciello said, glancing back at the other coaches. "Let's do that again."