Pasted in the corner window of the door that leads into Lamplighter Corner is a sign that reads: "You need a lamp, Billy got a lamp." It was written in blue crayon by the daughter of craftsman Billy Hoff, who has been at the helm of the Island business for the past eight years.
Lamplighter Corner was originally established in 1967 by Hollis Fisher who created reproductions of the classic 19th-century lanterns that line the streets and adorn the homes of downtown Edgartown. Mr. Fisher ran the business until the 1980s, when son Tom Fisher and friend Tim Rush took it over.
At about the same time on the mainland, New Jersey-born Mr. Hoff was pursuing degrees from Ithaca College and the Art Institute of Chicago. After completing his graduate degree, he moved to Brooklyn where a chance encounter while walking his dog led him to working in lamp design. "It was just something that I sort of fell into," he said.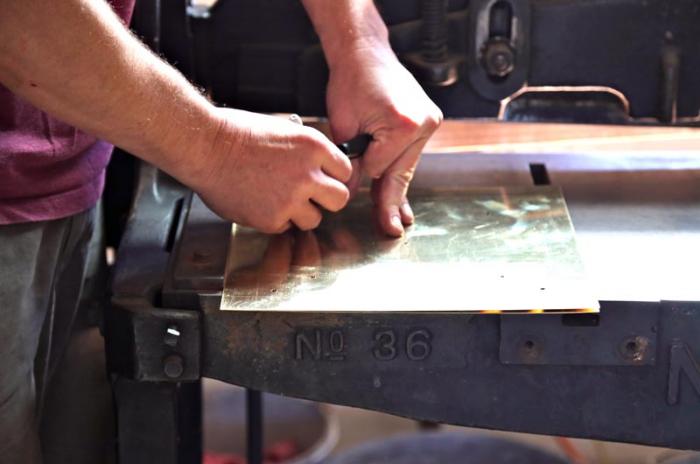 He became an assistant to a lamp designer at the Brooklyn Navy Yard and worked in the industry for a couple of years before moving to the Island with his wife and baby in 2001.
Mr. Hoff's brother John brought him to Lamplighter and introduced him to Mr. Fisher and Mr. Rush who, at the time, were thinking about moving on from the business.
"I was thinking 'this would be pretty cool,'" recalled Mr. Hoff, who was working as a landscaper. "And I don't think I even expressed that out loud but I thought, 'this would be a good fit.'"
The brothers Hoff bought the business and Billy Hoff began learning the craft of making the classic lanterns.
Today, Lamplighter Corner is housed in a workshop adjacent to Middletown Nursery in West Tisbury, which is owned by brother John Hoff. Using the same old iron machines that Hollis Fisher once used, Billy Hoff trims the copper sheets and cuts the glass and creates each part of the lantern himself. Then he welds the pieces together and adds the wiring.
"If I have eight of the same model I'll make all eight at the same time, so I go through each step once," he said. "It's pretty laborious."
It takes Mr. Hoff about one day to make one lantern.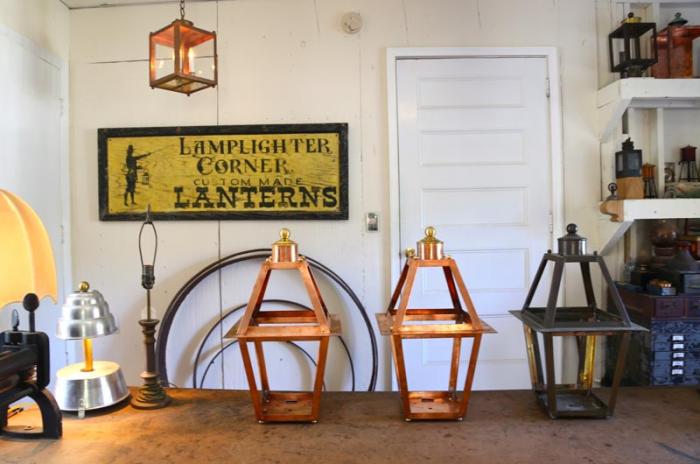 And while he has continued with the formula for the traditional look of the classic brass and copper lanterns, Mr. Hoff has also experimented with other types of lamps.
"Lamplighter has their line, their models that are ubiquitous with Edgartown so these are my bread and butter," he said. "But I do some custom stuff as well." Some of the custom work includes the chandeliers at State Road Restaurant and special orders from local architects like Patrick Ahearn.
For the State Road project, Mr. Hoff looked to the land for inspiration.
"I kind of wanted something very farmy, like agrarian, so I thought why not actually try to incorporate a real object. So I got these old tractor hubs," he said. "I've made about four of those since that job for different people . . . taking some of these old found objects that are really beautiful in themselves in their shape and very sculptural, and using those to make lamps."
While he spends much of his time in the workshop making lamps, Mr. Hoff considers himself a painter first.
"I paint for my imagination, so it's pretty much unstructured, whereas this is very formulaic," he said. "This is very linear — it's almost like a recipe that you follow. Like any craft, there is a sort of exactitude. It's a nice counter to the art thing where there are no rules."
His paintings are currently on display at the A Gallery in Oak Bluffs.
Mr. Hoff calls himself "the custodian of Lamplight Corner," crafting lamps that add to the historic character of Edgartown's streets and Island homes and yet like any artist, his creativity lights the way.
"I see possibilities," he said. "I have so many ideas for where to take this."