Scott Dawley has done it all: electrical work, sheet rocking, carpentry, flooring, diving for coins. "I've been in the trades ever since I was knee-high to a grasshopper," he said. Mr. Dawley owns Dawley Flooring and Tile and also offers handyman services.
He grew up in one of those quintessential gingerbread houses on the Martha's Vineyard Camp Meeting Association property. His father, an electrician, also grew up in the Camp Ground.
"My dad bought a house [in the Camp Ground] and I remember it was such a dump, but he breathed life into it. The one thing he didn't do was insulate the walls, so I used to wake up in the wintertime and there'd be ice on the inside of the window. That's my earliest memory of the Camp Ground," he said.
The Camp Ground's narrow circular streets located just off Circuit avenue were a magical place for a kid.
"It was great because we could walk into town. I used to walk to the beach. We used to coin dive at the Steamship wharf. As the tourists came off the boats we'd stand in the sandy parts usually about chest high and we'd say, 'How 'bout a coin?' I remember quarters twinkling down into the sand and five or six kids diving for the quarter all at once. Most people threw pennies but the quarter was what you wanted because then you could go to the arcade or to the Flying Horses. We'd keep all the coins in our masks and you knew it was time to go home when the coins were so high you couldn't see anymore."
The Camp Meeting Association was originally a place of worship for religious seekers. Families erected tents above wooden platforms and stayed there for the summer. Eventually people built homes where their tents once were, keeping those wooden platforms as the floors for their new houses. Mr. Dawley has cared for many of those ancient floors.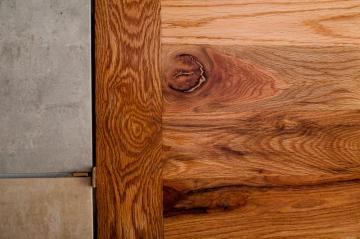 "I've worked in almost every Camp Ground house," he said. "With old floors that most people thought couldn't even be revived, I reset all the old nails. It's like refinishing an old boat."
While he talked about floor restorations Mr. Dawley scrolled through pictures on his laptop. He described the unique pumpkin coloring of aged pine, and how he works with lumberyards specializing in restoration so that he can get boards to match. He talked about the way the wood in the Camp Ground houses was harvested and milled right here on the Island.
"People don't even entertain the thought of bringing that old floor back to life until I tell them, 'We can do this.' And then we do it and they're just shocked and amazed. I just did a floor in an old captain's house in Vineyard Haven. They had this linoleum over this beautiful old flooring. We were able to patch the floor and revive it."
Sometimes, when he's working on an old home, Mr. Dawley will find pieces of history stuffed underneath the floorboards. "I've found old newspapers with Model A's in them and pictures advertising old women's boots with the buttons all the way down."
Mr. Dawley is drawn to restoration work but he also appreciates the challenges of new construction, including the technical work required when installing floors over radiant heating. In his archive of images there are intricately tiled showers, a wooden floor with a custom medallion inlay and a mosaic floor created with tiles that a client purchased in Italy.
Mr. Dawley's office is located next to his house in Oak Bluffs. Outside on the lawn his children's bicycles linger. His desk is covered in blueprints, and on a bulletin board are stacks of thank-you notes tacked next to receipts and to-do lists. Mr. Dawley tries to save these messages written by past clients.
"That's the kind of relationship I have with my clients," he said.
"We breathe life back into houses," he added. "We bolt them together, put a Band-Aid here, a little love over there."
That's the kind of relationship he has with his work.
Mr. Dawley's website is homemvy.com.