At first glance, a barrel of wood shavings outside a cabinet shop may not seem like a big deal. But to Bill Bishop, wood shavings bring back memories of growing up in Danbury, Conn.
Behind the house he grew up in there was a cabinet shop. "I used to watch the guys make stuff in there," he said. "The first time, I think I was about six or seven, I remember watching a man collect saw dust and shaving curls and the bags would overflow. I couldn't comprehend how he could make so much. So I started watching him through the window. It was the first inclination that I wanted to be a carpenter."
Mr. Bishop watched raw wood get carried into the shop, too. "And then when they were done, when they would come outside with it, it would be something gorgeous."
The die was cast, as they say.
Mr. Bishop went to a trade school for high school and afterward went right to work framing houses. That's when he met John Skrensky, a contractor from Norwalk, Conn. "He was an excellent mentor and he showed me a lot of things," he said. "And everything I learned I would write down in my notebook."
Now, almost 35 years later, Mr. Bishop is a carpenter and licensed general contractor on Martha's Vineyard, where he has lived for the past 25 years. "We came to the Vineyard for our honeymoon," he said. He and his wife, Donna Bishop, stayed at the Edgartown Inn and knew that Martha's Vineyard was the perfect place for them to raise a family.
After living on the Vineyard for 25 years and having raised two sons now in their late 20s, Mr. Bishop cannot imagine living anywhere else. "I love the community here. Once you get this place in your blood you can't get it out."
He built the home he lives in today and established his own business called One Job at a Time, where he primarily works alone, other than the occasional assistant, depending on the job.
"The idea behind One Job at a Time is that a lot of contractors get a bad reputation for starting a job and not finishing it. I do one job at a time when you hire me. You get me. I go there and I'm there doing that job until I finish. And when I finish, I ask the customer, are you happy?"
"My business is all about loyalty to customers and trust with customers," he added.
One of his loyal customers is Jan Pogue.
"I met him nine years ago when I was searching for a contractor and realized people come and go," Ms. Pogue said. "Even if you find someone that you've heard about, often they are too busy to return your calls or come do the job, so it becomes almost like a game to find someone."
She found Mr. Bishop through a neighbor and hired him to do some work on her house.
"And I soon realized he was really a craftsman who does pretty exquisite work," she said. "He's very visual and easy to work with and he does finish the job."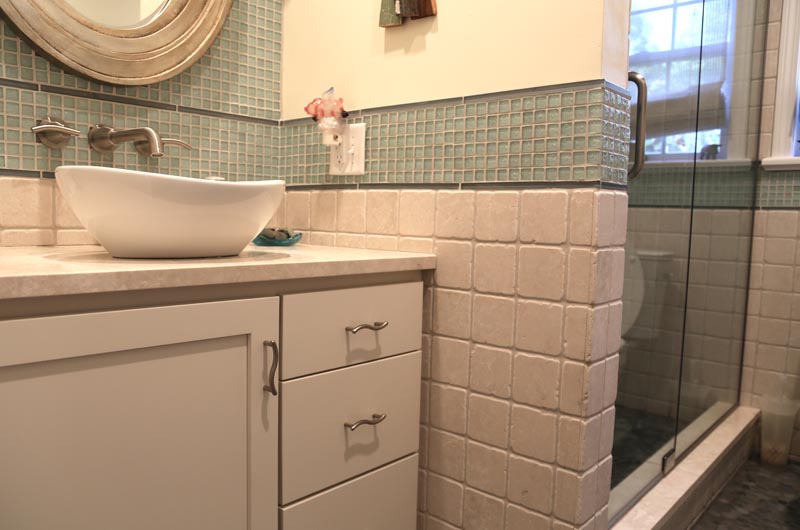 His work, she said, is unique to the customer.
"I'm at a point where people are letting me put my two cents in with design and it's a lot of fun," said Mr. Bishop. "And I try to put my signature on everything, which is tying in something from the Island."
Take for example a kitchen island Mr. Bishop built for Ms. Pogue. The structure is built with wood from the local state forest and part of an old barn door from West Tisbury. "It has character," Mr. Bishop said.
Mr. Bishop is also a caretaker for 15 properties on the Vineyard. "Some people I caretake for have kids and now I am caretaking for their kids' homes."
He said the reason he enjoys his jobs goes back to the trust and the closeness of the Island community.
"I consider them friends more than customers," he said. "They trust me to do the job. They are loyal customers and I would do anything for them. If they called me at two or three in the morning to do something, I would be there."
With nearly four decades working on his own, Mr. Bishop hasn't lost touch with the curious kid from Connecticut catching a glimpse of his future amidst piles of sawdust and wood shavings.
"I still keep a notebook to jot new things down that I learn. Every little bit of information is important."