It was the first chilly day of fall and West Tisbury middle schoolers had their hands stuffed into their pockets as they waited outside for the school day to begin. "Can we go into the gym?" one ventured to Donna Lowell-Bettencourt, the new principal who seemed like she'd always been the principal. "It's cold."
"Shall we cancel outdoor recess too?" she asked, smiling. Of course not, they retract.
Mrs. Lowell-Bettencourt's legs were bare like some of the children's, and she had forgotten her coat in the car. But she kept warm by moving in and out of the building and chatting with students and parents.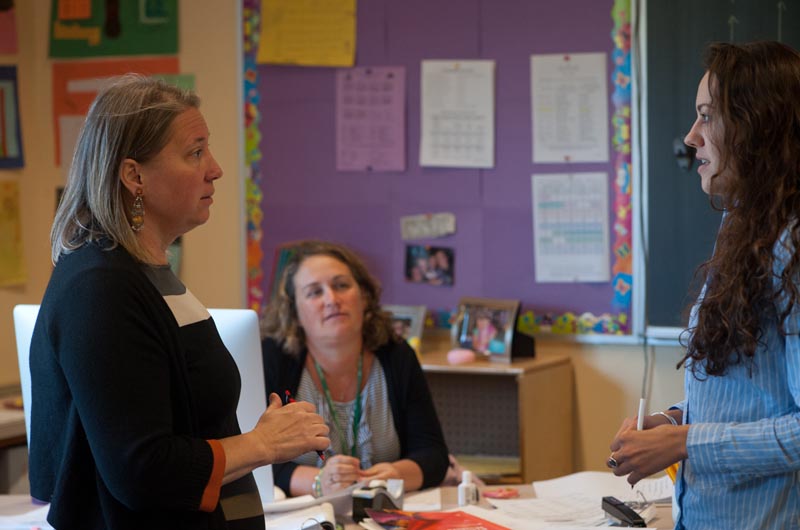 "Are you getting picked up early?" she asked one boy. "I think you have an orthodontist appointment," she said. "Yes I do," he replied.
After inspecting a young girl's blister, Mrs. Lowell-Bettencourt was pulled to the side. "I am so happy to hear that we have you for real now!" the mother told her.
This is Mrs. Lowell-Bettencourt's second month leading the school "for real," but she's not exactly new. In the past, she's served as assistant principal as well as acting principal at the school.
She polled the students: who walked or rode a bike to school? Many did, some without knowing that Wednesday was the national walk or bike to school day. One student dragged his feet as his parents led him to the front door. "There are exciting things waiting inside," the principal coaxed. He quickened his pace.
Mrs. Lowell-Bettencourt followed, ready to make her first stop of the day: a fourth grade class, where the students were busy sketching bird's-eye view maps of their homes. No one looked up from their work as she entered and approached a group table to inspect their work.
Jack's floor plan marked a secret passage to his basement. "Can I take a picture on my phone so I can remember where it is?" Mrs. Lowell-Bettencourt asked. "No," he said, smiling and snatching his paper out of her line of sight.
She said later that she appreciates students' openness with their academic work, their willingness to show her what they are working on and tell about how far they've come in school. "Being in and around the school and spending a lot of time in the classes can give me a sense of needs that do not show up on paper necessarily," she said.
Was her drawing detailed enough? Aubrey wanted to know. "Should I be the judge of that, or should you be the judge of that?" Mrs. Lowell-Bettencourt replied.
Later on, she states what's already become obvious. "The kids are pretty comfortable with me." And this is what she had been missing last year, in her central office post as interim director of student support services.
"I like being at a school with kids and faculty," she said. "I like more of the day-to-day in the school versus coming in and out of schools."
Mrs. Lowell-Bettencourt isn't tall, she smiles often and she has that teacherly way of stooping down to the kids' height when she interacts with them. Teachers could threaten their students with a visit to the principal's office, but the punishment is unlikely to hold much weight in West Tisbury. Mrs. Lowell-Bettencourt is approachable and encouraging, and anyway she spends little time in her office.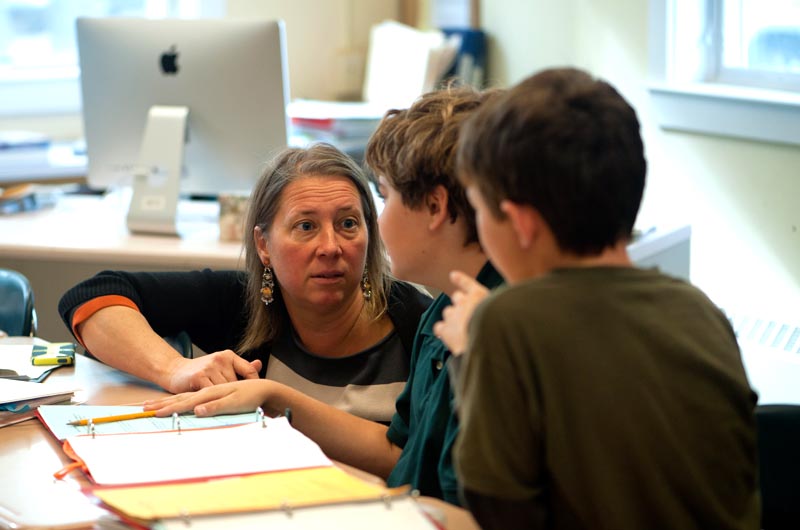 In the halls, though, her well-trained eagle eye catches the fourth grader shuffle running, and the fifth grader who draped his hood over his face. "Is that safe?" she asked. A subsequent sulk and reversal of the hood confirmed it's not and that he knows better. She knows some of the kids from her previous years at the school, but she's learned many of the 274 names within the last month.
She came to the Island in 1993 to work as a teacher at the Edgartown School. She taught English to sixth, seventh and eighth grades there, and worked as the school librarian, before launching an administrative career.
Last year she was tapped by the superintendent to direct student support services Islandwide. She was named to her current post at West Tisbury following the resignation of principal Michael Halt early this summer. Mrs. Lowell-Bettencourt has three advanced degrees — a master's in education, a certificate of advanced graduate studies in special education and a master's in educational leadership. She's currently working on her PhD in educational leadership at Lesley University.
At 10:20 a.m., she completed her fifth round of the building and settled into her office for a conference call. Soon, two technology teachers joined her and a discussion began with a smartphone application saleswoman. "One of our school improvement goals is on communication," she told the representative. "So a school app would be a terrific addition to all of the other new things we have started to really make it accessible to families, students and staff, to stay involved in what is going on in the school, and potentially community members."
She arrives at school around 7:30 a.m. most days and finishes reading emails at home late into the evening. She begins each day with an agenda, but often her plans are derailed for one reason or another, she said, sometimes as early as 7:30. On the day of her interview with the Gazette, it happened halfway into an observation of new teacher Katy Maciel's first grade phonics lesson, when the fire department showed up to deliver a school-wide fire prevention lesson. Much of the day is dedicated to teacher evaluations, both formal and unannounced, which she shares with the assistant principal, Mary Boyd. Mrs. Lowell-Bettenourt's evaluations are focused on the new teachers, whom she hopes to help develop into effective teachers with professional status, she said.
She says her staff is one of the greatest strengths of the school. "When it comes down to it, the best way to impact learning is the teacher and the student, and so if you can hire well and you can retain good staff, it's a lot of the battle," she said. The new system, though time-consuming, allows her to praise her teachers, to whom much is due. "A huge piece of this system for me is it allows you to recognize excellence in teaching," she said.
She said the relationships between students and teachers are particularly strong, as is the focus on project-based and hands-on learning.
"West Tisbury School really feels like a home," she said. "There's a lot of fun that is happening in the school, and you see a lot of happy kids. That's what we want."