A large green binder rested on Lorraine Clark's kitchen counter this week, the pages filled with requests for bicycles, toys, books, art supplies and blankets.
By mid December, those requests will largely be filled and nearly 500 Vineyard children will have presents to open on Christmas morning.
For 76 years, the Red Stocking Fund has collected gifts for Island children in need. For more than 20 of those Christmas seasons, Mrs. Clark and Kerry Alley have led the fund as co-chairmen. And this year will be their last as they prepare to hand the reins to Susan Wallo and Leslie Purcell.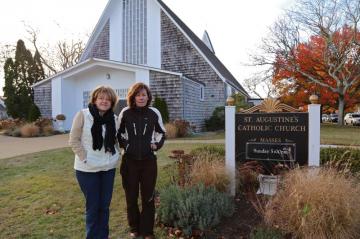 During their tenure, Mr. Alley and Mrs. Clark, longtime friends and high school chums, have helped thousands of Island children.
Just call them Mr. and Mrs. Claus.
"We need to have some younger elves because these elves are getting older. It's good to get younger people involved in this," Mr. Alley said.
Red Stocking began in 1938 when Mrs. Harris M. Crist filled six stockings full of presents to give to children in need. The fund buys specific gifts based on wish lists provided by parents, and spends most of its donations on clothes and food, including gift certificates from Stop & Shop for holiday dinners.
Another change for Red Stocking that takes place this year involves location. Due to increased demand and space, the operation center will move from Grace Episcopal Church to St. Augustine's Roman Catholic Church in Vineyard Haven. Gift donations are due to the church on Dec. 9. Parents will pick up gifts on Dec. 13.
Deflecting attention from themselves, Mrs. Clark and Mr. Alley said the work of Red Stocking would not be possible without the help of the community.
"This organization has become a fabric of the Vineyard and this time of year people just write out their checks and it's something they do every year," Mr. Alley said.
"We have special people who go out of their way," Mrs. Clark added. "They will do anything that we ask them. If we call several people right now and say we need five bikes, we would get five new bikes."
Applications for need were distributed at the end of October and have been streaming in. The application must include a signature from a professional verifying the family's need. Half of the applications go to Mrs. Clark and the other to Mr. Kerry.
"The parents don't want to do it, but they have to because they don't have [money]," Mrs. Clark said. "They want their kids to have a Christmas and you can't blame them."
The Red Stocking Fund serves children from newborn to eighth grade. In addition to the requested items, all children receive underwear or diapers, socks, pajamas, a hat and mittens.
Mr. Alley and Mrs. Clark both began as shoppers for the organization
"The first year I was involved she stuck me with the diapers and she sent me up to Cronig's to buy them," he recalled. "I thought, diapers are diapers. No, there's girls and there's boys and pull-ups and push-downs and weight and age. I thought I was going to go nuts."
Since then, Mr. Alley keeps a separate list for diapers, carefully noting each applicant's size, weight and gender.
"We're laid back, he's a lot more organized than I am," Mrs. Clark said.
"For the next month or so we usually talk every day, don't we?" Mr. Kerry said. "[My wife] calls her my other wife."
The stories are recalled like so many Christmas memories.
"A young mother whose child we had for probably five or six years, two years ago she called and said Mr. Alley, guess what — I'm not going to need Red Stocking this year," he said. "She said, I have a job and we want to adopt a family and buy everything for that child. They were just so thrilled to do this and give back." The program runs throughout the year, offering support for food at Thanksgiving, Christmas and in the spring. It runs almost entirely on donations of money and new, unwrapped gifts. This year the fund is in particular need of blankets, sheets and gloves for older kids. And Mr. Kerry said they're always short on books for one and two-year-olds. The paperwork is a necessary burden and logistics can be complicated, but they both agreed on their best advice for the two incoming Red Stocking leaders.
"You gotta have fun," Mrs. Clark said.
"Usually we're on the side of the angels," Mr. Alley said.
Mrs. Wallo, the current treasurer of the organization, said she's always enjoyed volunteering for children's organizations.
"Our longterm goal would be to put us out of business," she said. "In the meantime, our goal is to continue to hopefully somehow fill the shoes of Lorraine and Kerry, who have done the most incredible and masterful job of taking care of our Island kids."
Mrs. Purcell was the recipient of the Red Stocking Fund one year and wanted to become more involved.
"There's a connection with the families all year . . . and the understanding when someone walks in the door, you don't have to say anything," she said. "When I called up Kerry, he said, you're all set."
She said she would like to see Red Stocking offer gifts beyond eighth grade, even if it's only one item.
"They still need something that says it's Christmas," she said. "You have to keep remembering it's about the kids."
The Red Stocking Fund accepts donations year-round. Checks can be sent to Susan Wallo, the Red Stocking Fund, Box 600, Edgartown, Mass. 02539. Volunteers to shop and wrap are needed. Call Mr. Alley at 508-693-2324 or Mrs. Clark at 508-693-0725 for information about how to help.