While teaching piano, young Ernie Dewing's grandmother made him a deal: one classical sonatina for every Rolling Stones song. "I bought one of the first synthesizers ever made back in 1972," Mr. Dewing said, sitting down at a keyboard in his recording studio on Chappaquiddick. "But this is my favorite. It's a Wurlitzer from the late 60s. Got really nice sound, nice vibrato. It was 150 bucks, now you can't find them for less than a grand."
Inside his house is an upright piano and the baby grand his grandmother taught him on when he was a boy. But in his studio, what used to be the house's one-car garage, is an electronic jungle of keyboards, audio equipment, speakers and guitars on the walls and zipped up in cases.
"Yeah, I don't know how many guitars there are. I think there were 18 at one point. Which is funny because I don't play the guitar," Mr. Dewing said.
In his band Propergander, long-time friend Greg Holland plays the guitar, Graham Allen plays bass, Mike Waitekus on drums, and Mr. Dewing sticks to the keys.
"I just play keyboards so I have something to sing to," he said.
Mr. Dewing released the band's latest album in early October and is self-distributing it online and in the community.
"I want to get heard without the need of a record label or a tour," he said. "All I want to do is sell enough CDs so I can make another one. There are so many songs in me, I can't record fast enough."
He recorded and produced the 14-track album in his small studio. "People who hear the CD and then see the room say, you recorded that in here?"
It's the kind of room fit for writing in a journal or reading a book. It's cozy and warm with a plush couch, potted succulents, colorful paintings and musical memorabilia.
Mr. Dewing grew up in Albany, N.Y. learning piano and playing in bands in high school. A close friend produced shows at the Palace Theatre so Mr. Dewing had an in for backstage passes, where he was able to meet bands fresh on the scene like Van Halen and Tom Petty.
These bands along with the Stones, Pink Floyd and Cracker inspired the "roots rock" music he has been making as Propergander for the last 17 years. But this latest album, Wide Open, is what he is most proud of, he says.
Mr. Dewing's soft vocals melt into his piano playing, while the guitar solos give the heady songs a backbone.
"Sometimes if you whisper, people are drawn into it," he said.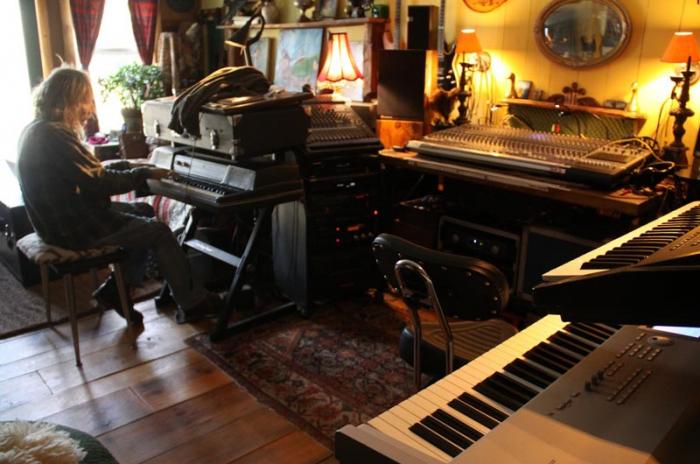 One of the songs is about vertigo, another about anticipation of a trip to California. Until this year Mr. Dewing had never been west of Niagara Falls, but recently he drove cross-country to camp with the bandmates of Cracker at Joshua Tree National Park.
"It's a very spiritual place," he said. "Kind of like here."
Mr. Dewing's family has been vacationing on Chappy since the 1960s. One year his mom cancelled their vacation to save money. The next year she bought a piece of property.
"We were all bummed that one year when we missed vacation, but now it's our home."
In September, Mr. Dewing and Mr. Allen hosted the first Chappalooza for a night of singers and songwriters at the Chappaquiddick community center. While Mr. Dewing enjoyed the audience's response from playing live, it's in his studio where he feels most comfortable.
"You take more risks when you are on our own. If you make a mistake, nobody is there to hear it."
Chappalooza will become an annual event, Mr. Dewing said. But making music in his studio will continue nightly.
"My life gets complicated. But when it gets real complicated, I come in here and lock the door. If I sleep in here and wake up with an idea, I just press the red button."
To listen to and purchase Propergander's music, visit reverbnation.com/ernie.