Taking his victory as a mandate for more openness, the newly-elected chairman of the Wampanoag Tribe of Gay Head (Aquinnah) vowed this week to put the question of gambling on Martha's Vineyard to tribal members.
Tobias Vanderhoop, who unseated Cheryl Andrews-Maltais by a 165-91 vote on Sunday to head the Vineyard tribe, told the Gazette he supports "an appropriate gaming initiative," but that it is up to the tribe's membership to decide whether converting the Aquinnah community center to a casino is appropriate.
"The membership has expressed explicit interest in having a special meeting in order for them to fully discuss this matter and set their decision," Mr. Vanderhoop said, adding that he will call a meeting on the matter after taking office in January.
"The matter is something that needs to be thoroughly fleshed out and discussed," he said. "The will of the membership will have to set our course."
Though gaming was surely an issue in the election, tribal members who attended a post-election party Sunday at Aquinnah town hall suggested the race for tribal chairmanship was as much about leadership style as substance.
"It will be more inclusive, softer and less adversarial," said Clarence (Alvin) Clark, who was reelected to the tribal council. "It's going to be a better place to be."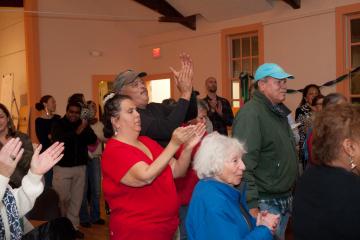 A strong proponent of gaming as an engine for economic development both on and off the Island, Mrs. Andrews-Maltais was seeking a third three-year term as head of the 1,300-member tribe, about 300 of whom live on the Vineyard.
Mr. Vanderhoop, a longtime educator who served as tribal administrator for four years, had cast himself as representative of a group of young tribal members seeking change.
The prospect of a casino in Aquinnah came to the fore five days before the tribal election when Mrs. Andrews-Maltais released an opinion from the National Indian Gaming Commission, the federal agency tasked with overseeing gaming for Indian tribes, that concluded the tribe has the right to build a casino on land it owns on the Island. She said the tribe would begin immediately to convert the unfinished community center into a gaming center.
In the opinion, dated Oct. 25, NIGC acting general counsel Eric Shepard argued that the federal Indian Gaming Regulatory Act superseded a 1983 land claims settlement agreement that led to the tribe's recognition by Congress. The opinion is at odds with the position taken by the state and Aquinnah town officials who say the tribe knowingly gave up certain rights in that agreement, including the right to build a casino.
On the night before the election, Mrs. Andrews-Maltais released a second opinion, this one from the U.S. Department of the Interior Division of Indian Affairs, that supported the same position. In a letter dated August 23 to the NIGC, associate solicitor Michael Berrigan said the settlement act does not prohibit the tribe from gaming on land in Aquinnah.
Tribal chief Ryan Malonson said about 258 of the 900 tribal members eligible to vote turned out on a mild, overcast day to cast their ballots. A bus was used to transport off-Island members from the ferry to the tribal administration building for balloting.
The turnout was higher than in previous years, he said. The last chairman election saw a turnout of 175 voters, he said, and most elections average around 200.
Mrs. Andrews-Maltais issued a statement by email following the election: "I am profoundly disappointed in the outcome of the election. However I wish Tobias and our tribal community the best of luck in these very difficult and uncertain times."
She could not be reached for additional comment.
Mr. Vanderhoop said he was gratified by the turnout.
"I was extremely pleased that so many people decided to come home and voice their opinion and cast their votes, that's what I believe in wholeheartedly," he said. "I hope that we can continue to get that kind of excitement for the meetings that are meant to have our people speak about what they want . . . and get their investment in our future."
Supporters gathered at Aquinnah town hall after the election were ebullient.
"It's a new change . . . somebody new with new ideas and hopefully there will be more hindsight than casino, casino, casino because there's more economic development opportunities that will work," said Buddy Vanderhoop, one of numerous tribal members who share the chairman-elect's surname. "We need change, somebody who will listen to the people."
"People wanted a change in how their leadership was representing them," agreed Durwood Vanderhoop, who was elected tribal council secretary.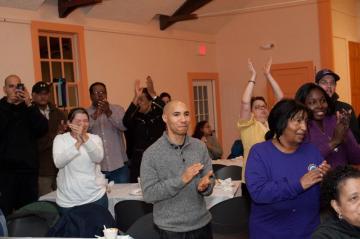 "I couldn't be happier. It's new beginnings for the tribe, for the town, for everybody," said Laurie Perry said.
Mr. Clark said he was interested in having the tribe explore economic initiatives in the coming years.
"I'd like to see economic initiatives outside of gaming," he said. "Although I'm for gaming if it's managed correctly, I'm interested to see other areas of growth."
Mr. Vanderhoop was welcomed with applause Tuesday at the Aquinnah selectmen's meeting, his first since becoming chairman-elect.
"I invited Tobias and would like to congratulate him," board chairman and tribal member Beverly Wright said. "We as selectmen will cooperatively and respectively work with the tribe."
"We congratulate you and welcome you with open hearts," selectman Spencer Booker said.
"I look forward to the opportunity to work with you," Mr. Vanderhoop replied.
The selectmen had no comment when pressed for their opinion on a casino in Aquinnah. Mr. Booker, who is also a member of the tribe, said the selectmen would take up the casino question when Mr. Vanderhoop takes the helm in January.
"We look forward to having that conversation with him then," he said.
At his election party Mr. Vanderhoop singled out his young campaign staff, including his campaign manager Tiffany Smalley, Michael Sellitti, Sophia Welch and Amira Madison, for special thanks.
Ms. Smalley received her undergraduate degree from Harvard in 2011, the first Wampanoag to do so since 1665. Mr. Vanderhoop himself holds a master's degree from Harvard's Kennedy School of Government.
His brother, Thomas Fantasia, hopped on stage to perform a song he wrote in honor of Mr. Vanderhoop. All in the room grabbed hands and danced in a circle to the beat of Mr. Fantasia's drum.
"This was about bringing a circle of energy back to our community, it was about making our people feel like we needed them, we loved them and they all have something to offer," Mr. Vanderhoop said at the party. "It is our victory."
Also elected on Sunday were Durwood Vanderhoop, secretary of tribal council, 238; Shelley Carter, tribal council, 168; Clarence (Alvin) Clark, 145; Berta Welch, Aquinnah Cultural Center, 211; Adriana Ignacio, Aquinnah Cultural Center, 208.