A flock of mallards quacked outside and a small wood stove crackled from within Rick Brown's boat workshop on Lagoon Pond in Vineyard Haven, where he was sanding an oar and preparing to replace the ribs of a 14-foot wooden wherry.
It's been a few decades since Mr. Brown, 59, of Far Cry Boats, built his first wooden boat in the basement of his childhood home in Bedford. The boat was a hunting skiff that, like the wherry (which is a type of rowboat), measured 14 feet long. Mr. Brown was in high school then. His father, a lawyer, was also a good carpenter, but nobody in the family had ever actually built a boat.
"My father's quote when he came home from work [was], 'I never thought you'd finish this thing, but there it is,'" he said.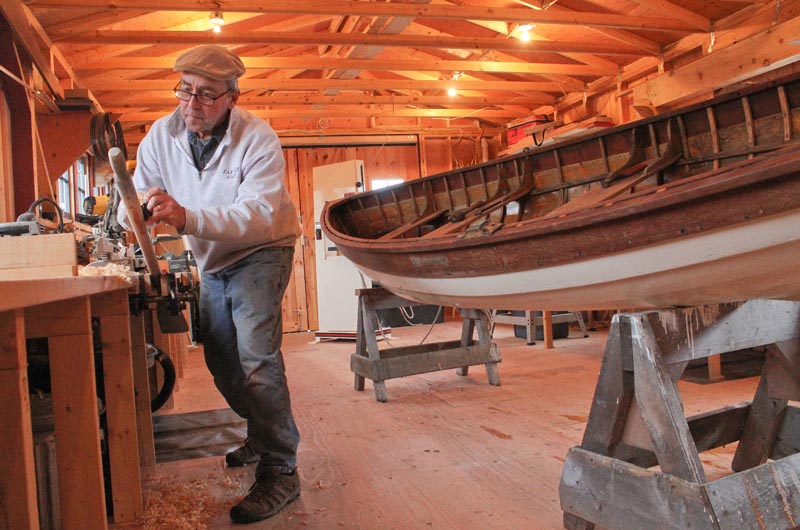 The same could be said of Mr. Brown's latest project — his new workshop, which he moved into in September. Make that moved onto. The shop itself, unlike any other on the Island, is also a boat.
"It is crazy, but it's kind of fun at the same time," Mr. Brown said. Still, it wasn't a whim that led to the Lagoon's new arrival.
Measuring 40 feet by 16 feet, the shop floats on two hulls and draws a foot of water. There is a deck on both ends of the boat, so the work space within is 36 feet by 16 feet. It's only slightly larger than Mr. Brown's old shop at the Martha's Vineyard Marina, where he worked for 12 years before the marina expanded and he lost his space. But since real estate, particularly of the waterfront sort that a boatbuilder requires, is at a premium on the Vineyard, Mr. Brown had nowhere to relocate.
"I couldn't find anything," he said. "I looked all around the Vineyard for a year and couldn't find anything to rent, so I ended up doing this."
He brought his plans before the town of Tisbury and began construction in May, building the hulls in West Tisbury before joining them with beams, launching them into the Lagoon and building the shop atop the base. Aside from the hulls, everything was built on the water. The shop is currently tied up at Martha's Vineyard Marina, its home for the winter.
"In the spring I'll have to go back out and find a new temporary home for it," Mr. Brown said. "Just take it as it comes."
"I guess I surprised myself by actually doing it," he continued. He said he's surprised a few others, too, raising some eyebrows on the Lagoon as people aren't quite sure what to make of the shop.
"The big misconception is that it's a houseboat," Mr. Brown said. "It's not — this is a floating workplace . . . it was never meant to be a domicile." His actual domicile is in Oak Bluffs.
Mr. Brown's goal was to make an aesthetically pleasing building — no corrugated tin in sight — but function was equally as important as form. He'd never built anything resembling a house before, but "I think, as a wooden boat builder, you gain the confidence.
"If you can build a wood boat you can build anything, I would say."
Mr. Brown first moved to the Island to build boats in 1974, shortly after finishing up boat building school in Lubec, Me., and he set up shop at Five Corners. He and his wife later moved back to Maine and then to the island of Petersburg, Alaska, where he was the foreman of a shipyard, before returning to the Vineyard.
"The wooden boat industry on the West Coast is vibrant, [especially] in the northwest, because there's just so many trees," he said. But considering the relatively small size of the Vineyard, he said, the boat building culture here is exceptionally strong.
"Vineyard Haven harbor sometimes looks like a wooden boat show without even trying to be," he said.
And the new space allows him to continue his own wooden boat tradition.
The 14-foot wherry is the perfect size for the space, he said. "Much bigger and I'm a little cramped, much smaller and it's kind of silly." Little boats can be pulled in straight off the water, bigger vessels require a bit more creativity. A 16-foot sailboat he worked on last month had to be hauled back onto the water with help from a group of friends.
And with his workshop on the water, he's often in no rush to go home at night. "After work it's hard to leave," he admitted. "Because when the sun's going down and the colors come out, it's just amazing.
"I'll stay here until the last drop of sunlight just watching everything."