Come winter old hockey players get restless. The rinks are open, the ponds starting to freeze and a whisper of adrenaline begins to build. But on most days it's the high school players who get to have all the fun. But this weekend, at the annual alumni hockey games, it was once again time for the old (and not so old) guard to dust off their skates and once again hit the ice at the Martha's Vineyard Arena.
"I missed it," said Lily Gazaille, class of 2012, after the girls' game. Gazaille and classmate Olivia Cimeno were both playing in their first alumnae game since graduation, although they've both attended current varsity practices to skate with their old team. Several players from last year's team, including co-captains Kassidy Bettencourt and Emily Cimeno and goalie Katy Smith, also laced up their skates.
"It's nice to get back on the ice," Olivia Cimeno said.
Turnout for the girls' game was low this year, so the squads recruited players from the arena's adult league, including a few boys. The coed mix didn't deter Liane Dixon, class of 2001. She scored all four of Team White's goals, although Team White did eventually lost 7-4 to Team Purple.
Some of the women playing in the adult league didn't have a chance to play when they were high school students as girls' hockey did not become a varsity sport until 1999.
"There wasn't a girls' team when I was in high school," said adult league player Kara Shemeth. "These guys built the program," she added, indicating the younger players.
The boys' game also featured a player who wasn't a regional high school alum. Goalie John Black moved to Falmouth after his freshman year, but he kept in touch with his Vineyard friends. Black now plays in the alumni game to honor his friend Ryan Mone, a former varsity player who died in 1998. The men's alumni game is named for Mone.
"It's great seeing all my old friends," Black said after the game, in which he landed an improbable assist from the net in the second period. "The guys you skated with, you might not see them all year, but you see them at the alumni game."
Thirty players took part in the men's game, in which Team White defeated Team Purple 9-4. Ten different players scored in the contest. In a testament to the casual nature of the game, Jock Cooperrider (class of 2011) picked up two assists for Team White and then, after switching jerseys in the third period, scored a goal for Team Purple.
The penalty box also saw its share of visitors, a testament to the level of competition on the ice.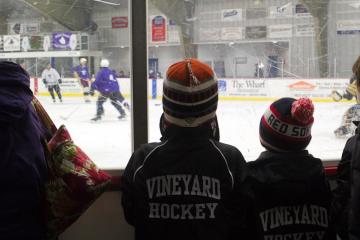 "It's like being in high school again," said Michael Giordano, class of 2005. Giordano scored three of his team's nine goals, one in each period. Giordano, along with former teammates Brandon Willett (class of 2004) and Finn Brigss (class of 2005), hasn't missed a game since he graduated. The trio arrived carrying their own gear in faded purple Vineyard hockey bags.
"The zipper's broken; it's water-stained," Willett said. But he, like his old teammates, said he won't be getting rid of the bag any time soon.
In previous games, Giordano said, more of the alumni from teams of the 1980s and 90s, played.
"We missed Gary BenDavid (class of 1987) this year," he said.
"We're starting to become the older ones," Briggs said.
Old or not, the players said all of their parents had come out to watch the game.
"They like it because they like watching us play again," Giordano said.