At the first official Mocha Mott's musical coffeehouse on Friday night in Vineyard Haven, high schoolers, college kids home for break, musicians and music lovers sat crowded together whispering, tapping feet, moving heads side to side and sometimes braiding each other's hair.
"Long live Mocha Mott's music!" Adam Lipsky said after playing his first set of jazz. "I hope this continues for years."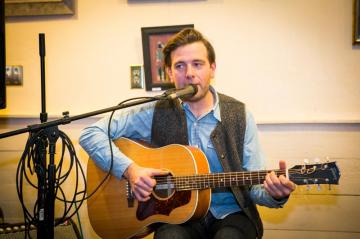 This winter is the pilot program of a free concert series at the year-round coffee shop. It's a chance for local musicians to get exposure in the "dark days" of winter, when affordable venues are scarce. The four-hour evening segments will take place at least twice a month.
"A lot of us have thought about it over the years, so this year we just said, let's do it," said Noah Maxner, a Mott's manager and musician who coordinated the coffeehouse. "It's more just to provide a space to have music that wouldn't be supported in the [off-season]."
Mr. Maxner said Islanders are "starving in for music," and Vineyard Haven, as full-time port and off-season hub, seemed like a good place to satisfy that need. They may also host concerts at the Oak Bluffs branch on Circuit avenue.
Mr. Lipsky completed an hour-long set and then Lydia Fischer took over playing acoustic guitar and singing in a soulful voice. Ted Perry, a guitar player and vocalist, and Roman Laiacona, guitarist, completed the night's acts.
Stay tuned for the next installment, planned for a Friday or Saturday night in late January.