Bolstered by a large home crowd, the boys' hockey team powered through back-to-back wins over league opponents Bishop Stang and Bishop Feehan on Friday and Saturday to move to a 7-1-1 season record. They are undefeated in league play.
On Friday the team took down Bishop Stang 8-2, outshooting the Spartans 44-11. Junior Alex Vukota kicked off the scoring in the first period on an assist from senior cocaptain Brian Fraser. Bishop Stang answered shortly after to tie the game, but the Vineyard exploded in the second period to score six goals in six minutes.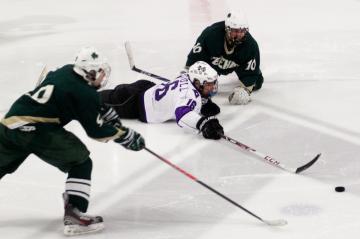 Sophomore Joe Davies scored his first career goal on an assist from freshmen Josh Forend and Jonas Lukowitz, and junior Austin Morley landed two unassisted shots.
Senior cocaptain Tyson Araujo potted two goals early on and completed his second hat trick of the season with another goal in the third period.
Sophomore goalie Wyatt Jenkinson had a standout game during Saturday's contest against Bishop Feehan, earning his first shutout of the season in the Vineyard's 5-0 win.
Assistant coach Max Sherman described the weekend as a "good 90 minutes of hockey," noting that the team is "definitely becoming more of a cohesive unit."
Another large crowd turned out Saturday night to watch the Vineyard girls' team battle rival Scituate in the first round of the 13th Annual Nan Rheault Tournament. The Vineyard outshot Scituate 35-11, but Scituate goalie Hannah Clougherty stopped every advance except the very first, a rush from the opening faceoff by Emily Hammett and Callie Jackson that fed to junior Aubrey Ashmun.
Scituate is a regular opponent in the Nan Rheault Tournament, which is named for Caroline "Nan" Rheault, who helped spearhead building the Martha's Vineyard Arena. Opponents Medway/Ashland and Peabody/Lynnfield also made repeat appearances this year. Medway, last year's winner, again walked away champions after defeating Scituate 5-0 on Sunday afternoon.
The Vineyard tied with Peabody in the consolation game, fighting back from a two-goal deficit at the start of the third period to close the game 4-4.
"We showed resilience," head coach John Fiorito said after the game. "Just like yesterday, it was hard [for us] to score goals."
Peabody scored in the first seven seconds of the first period, but senior cocaptain Callie Jackson returned the favor on the next faceoff, tying the game before a minute had passed. The Tanners took advantage of two power plays to move ahead 4-2 by the third, but a goal by junior Sydney Davies (assisted by Ashmun and Alex Clark) brought the Vineyard within reach, and a clutch goal by freshman Kylie Hatt (assisted by Belle Dinning and Olivia Ogden) gave the girls a hard-fought third place in the tournament.
The girls are now 5-2-2 on the season. Their only losses have come at the hands of Scituate.
Both hockey teams take on Dennis-Yarmouth in away contests this week.