The Sheriff's Meadow Foundation is nearing the end of a multi-year restoration project at their namesake property in Edgartown, the Sheriff's Meadow Sanctuary.
Come summer, visitors can admire the old ice pond from new viewing platforms and walk around the pond towards John Butler's Mudhole on new boardwalks.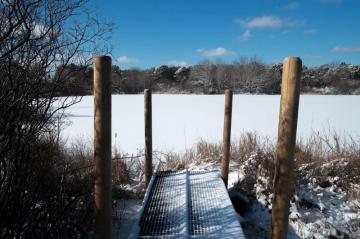 In the 1850s the piece of land off Planting Field road was owned by Sheriff Isaiah Pease. The meadow contains an old ice pond that is home to muskrats, turtles and, lately, swans and their cygnets. Once, blocks of ice were cut from the pond and stored in an ice house through the summer. The ice house was torn down with the dawn of refrigeration.
A trail winds around the pond, with a lookout on the north side offering a view of a small tidal pond known as John Butler's mud hole, a mix of freshwater marsh and salt pond. Eel Pond and the ocean lie beyond.
Henry Beetle Hough acquired the land in 1959 to protect it from development, and thus began the Sheriff's Meadow Foundation.
Sheriff's Meadow executive director Adam Moore said work at the sanctuary this winter is the final phase of a restoration project aimed at removing invasive species and improving access for walkers.
Most visibly, the foundation is installing two viewing platforms into the pond. Before, paths leading from the walking path to the pond ended in mud, Mr. Moore said. There will now be wooden docks that offer views of the pond where earlier this week the swans and cygnets were seen frolicking on the ice.
Mr. Moore said the viewing platforms will have railings as a safety measure. The work is being done by Steve Ewing.
Other work includes replacing the footbridge in the viewing area by the mudhole, and replacing all the existing boardwalks. These will be slightly elevated so they will not rot as quickly, Mr. Moore said.
The boardwalk is being made with pitch pine, Mr. Moore said, "from local trees that were locally sawed."
"We're kind of excited about using pitch pine," he added, noting that it has rot resistant qualities. "We want to use local materials to the extent possible."
The foundation is also trimming and pruning vegetation.
At a conservation commission meeting earlier this month, some neighbors expressed concern that the construction is upsetting birds, and noted that the swans haven't nested at the pond recently. Mr. Moore said the work should be done by the spring, which is mating season, and he did not anticipate any disturbance issues.
He also noted that swans are an invasive species.