At the Edgartown school, police officers can be found answering phones in the front office, flipping burgers at school picnics, and walking groups of students to the buses at the end of the school day. One day a week a firefighter is in the nurse's office helping with hearing and vision tests.
For the first time this school year, the Edgartown police department has a school resource officer at the school all day, every day, and as part of a pilot program fire personnel are on hand one day a week. Besides filling in wherever they are needed, the program aims to provide school safety, educate students and build community relationships with the police department.
"It's a real advantage having officers in the building every day," Edgartown School principal John Stevens said. "Not just for protection — I mean, that's the bottom line — but to create relationships with kids and staff is something that's really special. The relationships that they create here, they continue outside of the school and then they continue forever."
"These kids grow up . . . these relationships will always be there," he said. "That's what community policing is all about."
Police officers David Rossi, Stephanie Immelt, Joel DeRoche and Ryan Ruley come to the school once or twice a week, with at least one officer there every day. When the school resource program started three years ago, Edgartown police chief Antone Bettencourt said, officers were at the school just a few days a week.
"It's grown now," he said. "This was our goal and we finally reached a five day a week program. We're pretty proud of that."
Chief Bettencourt funded the program through the police overtime account, increasing the amount with the town's approval. "Yes, it does cost money, but we think it's worth it," he said.
The officers work with students of all ages, teaching younger kids about when to call 911 and safety tips for trick-or-treating. Officer Ruley and Mr. Stevens recently taught a seventh grade class about electronic communication and bullying, and officers have led a seventh grade enrichment program on forensics, teaching about fingerprinting and other crime scene tools.
They are on hand for emergencies — like when one student got stuck in a piece of playground equipment — and are a point of contact for parents and staff.
"This morning a parent came up to talk with me," Officer Rossi said. "You're available, they don't have to call the police station, they know us...it helps us on the job too, because when we go to calls where there are children and parents, we're familiar with them. It makes it more comfortable for them, and definitely more comfortable for us."
"To me that's the most important part, is that we're building relationships with these students," Officer DeRoche said. "There are roughly 350 students in this building. Our goal is to kinda get to know each and every one of them and earn their trust. That's big."
Last year, a high school student who wanted to talk to a police officer requested Officer Rossi because he knew him from the Edgartown School and trusted him, Officer Ruley said. When the drug task force executed a search warrant at a home where there were young children present, he added, Officer Immelt was called to talk to the children and explain the situation.
"It was kind of seamless because they knew Stephanie but they didn't know any of the guys coming through the door," Officer Ruley said.
Part of the program is a hope that the officers' work now will pay off later.
"I think that's what we hope for the future, that if a kid is in a bad position . . . they'll call somebody they can trust, pay it forward," Officer Ruley said.
The school resource officers have also been involved in monthly meetings with school and town officials about preparing for any event that may happen at the school, including talking through various scenarios.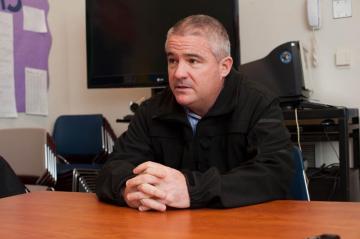 Chief Bettencourt said town support and appreciation from students and parents has led to the program's growth. "The parents and the teachers, they don't like it if we're not here. They like having us here," he said. "That's the reason the program has grown and it's pushed off to the fire department . . . everybody sees how it's such a nice program to have."
A similar Edgartown fire department program began at the beginning of this school year. Jake Sylvia and his colleagues Michael Klimek and Hadley Antik are in the school one day a week. They, too, help with practical tasks like hearing and vision screenings in the nurse's office, education about health and safety and outreach to help children be comfortable with their presence.
Lieutenant Sylvia said the program gives the fire department extra awareness about students with serious medical conditions, like the nine students at school who need EpiPens for allergic reactions. "If we ever do get called over here we're aware of their conditions, the medications they're on," Lieutenant Sylvia said. "It's a blessing that we are here if needed but also we're more familiar with these kids if we go to their house."
A firefighter in full gear came into classes to teach kids not to be afraid and run away.
"I think it's good for [students] to be able to see their faces in the school," school nurse Nicole Barlett said, and "try to understand that they're also here to help and care for them."
Plus, she said, it's nice to have an extra hand in the busy nurse's office. "It's a good team effort, we understand each other and there's a good mutual respect here," he said.
At the end of a school day in December, the officers stood in the hallway a few minutes before school let out, later going outside to say hi to parents through car windows and give students a high-five on their way out of the building. Officer Ruley briefly swapped his police cap for a red Santa hat that a student was wearing.
"They inject themselves wherever they can into the school culture, it's really paying off," Mr. Stevens said. "Dave is often seen answering phones at the front desk, helping out in the kitchen, everybody kind of pitches in in this business and these guys are no different. They become part of the school team."
"I've seen them run the clock before for the basketball games, they answer the telephones, they serve lunch," Chief Bettencourt said. "They'll do anything." Even, it turns out, lice checks.
For several of the officers, it's a return to their old stomping grounds. Officer DeRoche, Officer Ruley and Lieutenant Sylvia (and Chief Bettencourt and Principal Stevens) attended school at Edgartown Elementary.
"When you return to your school . . . you kind of feel like you need to make it a much better school than it was," Mr. Stevens said. "We want to make it as good if not better than it was when I was here."
Officer DeRoche's daughter started kindergarten this year. "It's very comforting to know that at any given moment during the school day there's an armed police officer here," he said. "That makes me feel really good as a parent."
The officers have accompanied classes to school trips near and far, even following behind the school bus in a police car — which came in handy when the bus broke down on a ski trip to Gunstock Mountain in New Hampshire, "right on this hilly little two lane road," Mr. Stevens said. Officer Rossi got out, directed traffic and called on the radio for help.
"Little stuff like that makes a big difference," Mr. Stevens said.
And that wasn't all. "I read them a nighttime story," Officer Rossi said.